Cabaret FAQ
June Skinner Sawyers
Applause Theatre Book Publishers
Released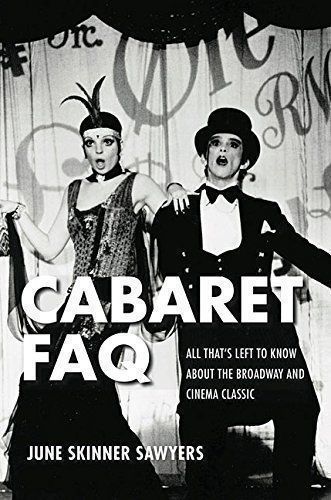 Readers might well have seen the recent enthusiastic review of an earlier book in this series, Rent FAQ. Writers of FAQ books are clearly told by Applause Books to go away and research a musical, putting down in writing everything that they discover that has even the most tenuous connection to what must inevitably have been a runaway hit on stage and screen.
In this case, June Skinner Sawyers has done exactly that, creating a 321-page almanac about anything and everything connected to the word "cabaret", the city of Berlin and anyone even vaguely connected to major stage productions and the movie.
Most people purchasing this book are likely to be interested in learning as much as they can about the creative team behind the story i.e. Christopher Isherwood the short story writer on whose work the musical is based, John Van Druten who wrote the original stage version, I Am a Camera, director Harold Prince and key actors such as Liza Minnelli, who built a personal legend via the role of Sally Bowles.
However, there is a vast amount of information in this volume that has barely even one of those tenuous connections to Cabaret. The first 70 pages contain barely a reference either direct or oblique to the show, giving a history of cabaret the art form and exploring the rise of the Weimar Republic.
Once we get into the musical and then the film, there is some interesting material that will help to illuminate the show for many readers. They will learn about the original characters who were encapsulated in the short stories that Isherwood apparently based closely on real life. They will also discover much about the original Broadway stage production and the movie.
Of slightly more questionable interest is extraneous material that stretches further and further away from the ostensible subject of the book. While learning about random productions across the United States, one does begin to wonder why these are chosen rather than those from other countries, particularly a local high school version and a single university production, each seemingly selected for their proximity to the home of the author rather than any other very compelling reason.
To compound this impression, the publishers appear to have decided to get the book out in a hurry, neglecting to give an editor the chance to proof read and value judge the material. Had they taken a little more time, many of the irrelevant chapters could have been deleted, along with a good deal of repetition and the odd typo.
This is clearly a worthwhile series that will prove of assistance to budding actors and directors wishing to get involved in productions of musicals such as Cabaret, as well as fans of one of the great stage and screen creations of the last half-century. The shame of it is that this book is useful but could have been so much better given a little more care.
Reviewer: Philip Fisher