Cadre
Omphile Molusi
Chicago Shakespeare Theater
Traverse Theatre
–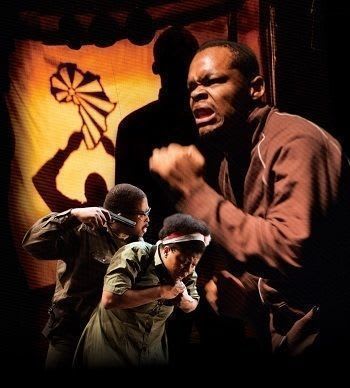 Omphile Molusi has written a powerful piece of political theatre that looks at South Africa in the period from 1965 to date, in a production that started at Chicago Shakespeare Theater and has subsequently played closer to home at the Market Theatre in Johannesburg.
It takes a black viewpoint, episodically following the life of Gregory, who is played by the author.
Despite the use of Poor Theatre techniques rather than today's high tech effects, it really hits home thanks to the quality of the writing and energetic performances from Molusi and also Sello Motloung and Lillian Tshabalala, each playing multiple roles with great versatility.
In the early scenes, Gregory finds love but yearns for more contact with a brother who has joined the illegal PAC resistance movement and been disowned by their harsh, religious father.
After witnessing his death, the youngster runs away himself to become cadre—a guerrilla or freedom fighter depending on your predilections.
This gripping story follows Gregory from childhood through revolutionary activity to a long period in prison, prior to work undercover as a spy and a final showdown with his family's nemesis.
With shadow play and a destructive finale, one doesn't miss the special effects that computers can offer in what is a high quality piece of theatre that is well worth catching.
Reviewer: Philip Fisher