Calamity Jane
Adapted for the stage by Charles K Freeman from a screenplay by James O'Hanlon, music by Sammy Fain, lyrics by Paul Francis Webster
Watermill Theatre
Richmond Theatre
–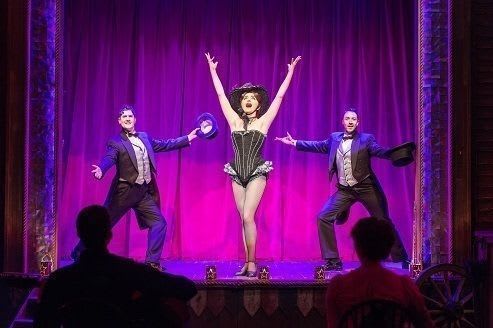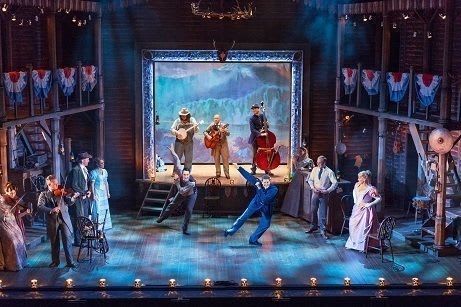 Most of Broadway's successful stage musicals end up eventually on the big screen. What is rarer is for a Hollywood musical to end up on the Broadway stage and on the West End stage. In my head, as I write, apart from Calamity Jane, I can think only of a handful.
There's On the Town (which actually started life as a one-act ballet), Seven Brides for Seven Brothers (which is on now in London at the Open Air Theatre in Regent's Park), Beauty and the Beast (the Walt Disney cartoon), White Christmas and Dirty Dancing.
Calamity Jane, premièred by Warner Bros in 1953, starred Doris Day and Howard Keel and followed a Western route already blazed by Irving Berlin and the four-barrelled Ethel Merman in Irving Berlin's Annie Get Your Gun on Broadway in 1946.
The whip crack-away rivalry of Calamity Jane and Wild Bill Hickok echoes the rivalry of Annie Oakley and Frank Butler. "I Can Do Without You" is a watered-down version of "Anything You Can Do, I Can Do Better". There are also echoes of Oklahoma! In "Just Blew in from Windy City" which is a variation on "Kansas City".
The action is set in Deadwood City, Dakota Territory and Chicago in the summer of 1878 when Calamity Jane is 26.
The gun-toting tomboy thinks she loves a young lieutenant when everybody knows she and Wild Bill are just made for each other. She rashly bets she can get a vaudeville artiste to appear in Deadwood and drives off to Chicago to get her. The cowboys are none too pleased when she brings back the vaudeville artist's maid by mistake.
The two women set up house together; but family audiences and coach parties need have no worries. This is Deadwood 1880s, not Portland 1990s. The maid and the lieutenant immediately fall in love, which means, there is a momentary hiccup (or do I mean hickok?)
The real Calamity Jane (1852-1903), a manly-looking frontierswoman, sharpshooter, professional gambler, gold prospector, cavalry scout and stagecoach driver, was a legend in her own lifetime. She lived in Deadwood, Dakota, and was considered the most reckless and daring rider in the West. She wore men's clothing, she drank hard and she swore like a man. After Bill Hickok was murdered, she joined Buffalo Bill's Wild West Show and her skills at riding and shooting on a bareback horse reached a much wider public than just cowboys and injuns.
Nikolai Foster's lively touring production has an ensemble of actors who are also musicians. They act and play their instruments on stage. They also have to dance. The energetic routines are choreographed by Nick Winston.
The limited saloon bar space feels just right. The songs include "The Deadwood Stagecoach", "Careless with the Truth" and "Higher than a Hawk".
Sammy Fain and Paul Francis Webster's best known song, "Secret Love", was specially written for Doris Day and it went on to win an Oscar; but it is in such a different style to the rest of the score that it feels as if it has been tacked on.
The song you really want hear again is the irresistible "Take Me Back to the Hills of Dakota"; and which, to the obvious delight of the audience, is reprised in the curtain-call.
The cast is headed by a feisty Jodie Prenger as Calamity Jane. Prenger, you may remember, won the I'd Do Anything competition on TV and played Nancy in a major revival of Lionel Bart's Oliver! at Drury Lane Theatre.
Tom Lister is a personable Wild Bill Hickok. Sophia Ragavelas is the maid with stage ambitions. There's also good support from Bobby Delaney who has a virtuoso dance number and a virtuoso piano turn.
There is, in fact, good support from the whole cast. The production is very likeable. Calamity Jane is the perfect show for the whole family. Take the grandchildren and definitely take the grandparents.
Reviewer: Robert Tanitch