Oliver!
Lionel Bart
Theatre Royal, Drury Lane
(2009)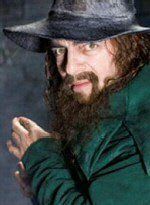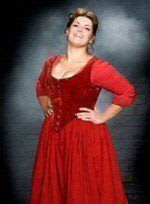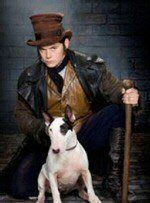 Even to those who can do without the hype, this revival of Oliver was always likely to be quite special.
The production was originally conceived by the finest young director of his generation, Sam Mendes, for the Palladium in 1994. It has now been taken on by the successor to that mantle, Rupert Goold, whose vision is always guaranteed to challenge and entertain.
On this occasion, Goold peoples the stage with grotesques that could have been drawn directly from a Hogarth cartoon and, throughout, relies on comic melodrama, which works surprisingly well.
Having been written by Charles Dickens, a man who knew how to pluck at the heartstrings like no other but sadly has been given no credit at all in the programme, the story has depth.
Dickens and Goold have also been well served by designer Anthony Ward and his lighting colleague Paule Constable who are extremely effective in conveying London life and the vast gulf between the rich and poor of the period.
Oliver Twist's journey starts in the dingy reality of the grim Victorian workhouse ruled over by Julius D'Silva's lecherous, greedy Beadle Bumble and his oversized love, Wendy Ferguson as Widow Corney. It is there that Oliver famously asks for more and gets it in a comic undertaker's, moving on to Fagin's handkerchief-bedazzled den and the bright streets of London, and Oliver's final comfortable home with his miraculously discovered grandfather, represented by a dignified Julian Glover.
Darkness is injected by Burn Gorman portraying Bill Sykes as a figure oozing evil, who finally meets his comeuppance in a fatal midnight showdown on London Bridge.
These days, rather than packing a cast with household names, Lord Lloyd Webber and Cameron Mackintosh have created a new formula. They set up a prime-time reality TV series in which recognisable stars are created through a couple of months of competitive exposure and audience participation.
This concept has backfired to a greater extent with Oliver than it did with The Sound of Music and subsequently Joseph. While audience expectations of Jodie Prenger, who was controversially chosen to play Nancy by I'd Do Anything's viewing public against the better judgement of the professional panel, were high, she is far from a polished star.
Miss Prenger gives the impression of having walked straight on to the set from Eastenders, has a rough but powerful cabaret singer's voice and cannot enunciate clearly. This means that she is overshadowed by the chorus, who excel in a lovely rendition of Who Will Buy? which, like Consider Yourself, is one of several songs that start on a small scale and build to a full cast crescendo accompanied by Matthew Bourne's energetic choreography.
Similarly, young, self assured Harry Stott who was selected on TV to be one of three Olivers is outshone by the superb Eric Dibb-Fuller, a livewire playing an excessively lovable comic, Cockney Artful Dodger. The programme has another lacuna when it comes to the tiny boy who plays Nipper and delighted a packed house with his cherubic looks and possibly unconscious sense of stage comedy.
This though is a production with far more to offer than its TV-generated leading players. Lionel Bart's musical, which has become so familiar from repeated re-runs of the film version starring Ron Moody as Fagin, is packed with wonderful songs that have become part of the public consciousness.
TV fans also get a bonus in the form of Blackadder, Rowan Atkinson. While he is curmudgeonly, the old rogue has a winning way and is extremely funny, even if Fagin does sometimes bring to mind Rowan Atkinson far more than the character that he is supposed to be portraying. Atkinson is no singer but does justice to his two big songs, bringing out all of the humour in You've Got to Pick a Pocket or Two and Reviewing the Situation.
Particularly in recessionary times, rags to riches stories are likely to fill theatres for the duration anyway. While this production could have done with stronger singing from the leads, it will therefore undoubtedly prove a popular success, particularly with the attraction of the big names and its plethora of hummable music, comedy, energy and pathos.
Reviewer: Philip Fisher