Calendar Girls - The Musical
Gary Barlow and Tim Firth
David Pugh & Dafydd Rogers and The Shubert Organization
New Victoria Theatre, Woking
–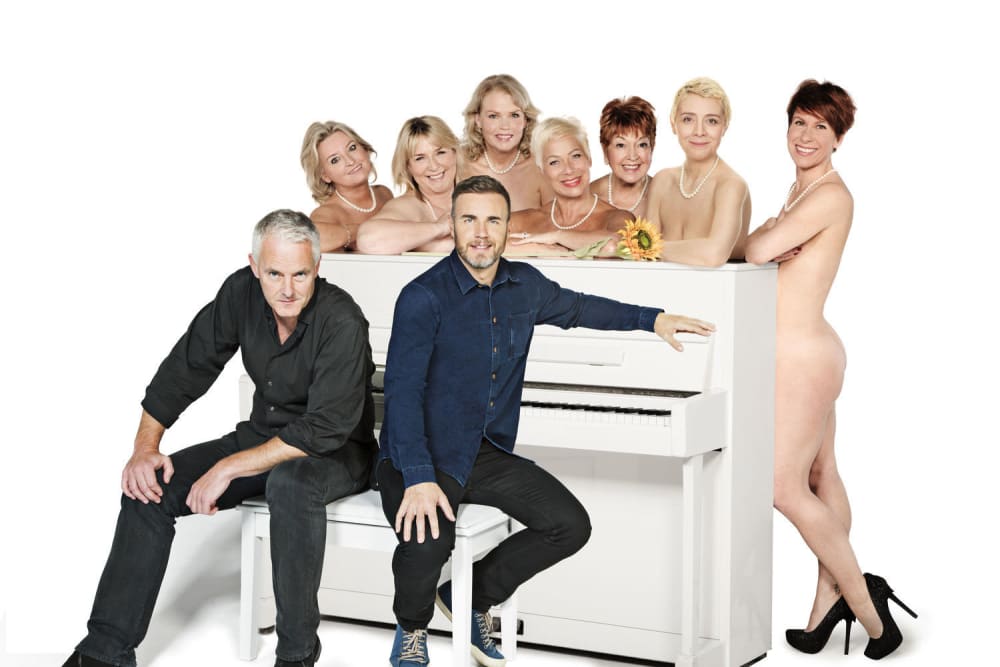 The whole world must now know the story of these courageous women who, in order to raise enough money to buy a sofa for the relative's room of the hospital where their friend's husband had tragically died of leukaemia, decided to produce a Pirelli-style calendar where they would shed their clothes.
Eleven women, members of the local Yorkshire Women's Institute, wanted to do something to help and their annual calendar (pictures of churches and village greens) was not inspiring. They would bare all—but strategically placed buns, teapots or flowers would hide the 'naughty bits' while displaying the activities of the WI. To their amazement, the calendar took off in a flurry of media activity, sold 88,000 copies in the UK in 1999 and a year later a further 240,000 copies in the USA. Originally aiming to raise £5,000, their venture has now totalled over £5 million for Bloodwise—the new name for blood cancer research—and the hospital now boasts a whole new wing.
Their story became a film in 2003, followed by the stage play (both written by Tim Firth) which, after a trial run at Chichester Festival Theatre, hit the West End with a bang and has been breaking box office records ever since. It would seem there was nothing more could be done with this story, even Firth first thought that a musical adaptation could add nothing—that was until Gary Barlow came on the scene.
The collaboration of the two involved sending a suggestion of a character trait to Barlow who would then send a song back to Firth who then mixed and matched all at the songs to fit and follow the story, while not forgetting that there are real living characters who will be seeing the show. It sounds a trifle complicated but it worked, and together they have produced a blockbuster of a musical which explores more of the thoughts and innermost feelings of those involved which are expressed more forcefully in song than in simple dialogue.
Anna-Jane Casey's Annie shares her feelings of loss and bereavement in "Kilimanjaro"—the mountain she has to climb—and Pauline Daniels's Jessie in "What Age Expects" dispenses common sense and advice in equal measure. Rebecca Storm as Chris, anxious about her teenage son, gives full measure and great voice to her numbers while ably keeping the comedy perfectly timed. I can't remember a song for Sarah Crowe's Ruth, but she makes her presence felt with a performance which conveys her timidity, her love of baking, the way she seems to be doing everything needed—and her love of vodka. A spirit which enlivens her spirit enough to finally strip off.
The music is terrific and lyrics perfectly matched to tune and character although often seeming a little longer than necessary making the first act rather slow. Act two really takes off—in more ways than one—as each character in turn strips totally bare to delighted screams and laughter from the audience.
I have a to admit that, although this is a brilliant show, I really missed the understated original and finding that, within the comedy, it touched the heart and I had to shed a tear at the end.
The reaction of the audience at the end of this show proved I am the only person to feel this and the complete and instant standing ovation with prolonged cheers and applause said it all.
Reviewer: Sheila Connor