Called to Account
Edited by Richard Norton-Taylor
Tricycle, Kilburn
(2007)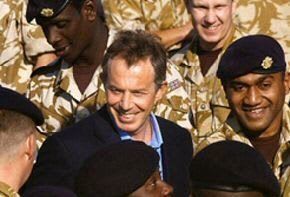 The indictment in the seventh Tricycle "tribunal" may not have been quite the one that the audience would like to have seen debated.
For two-and-half hours, a list of grandees give evidence as to whether Anthony Charles Linton Blair is guilty of the crime of aggression against Iraq.
By the end of the grilling of no fewer than eleven witnesses, with evidence drawn from 28 hours of recorded interviews, the result may well be case not proven but on the basis of legal technicalities and semantics rather than innocence of a different offence.
Had the question been as to whether Prime Minister Blair acted morally and reasonably in the period leading up to the British support for the invasion of Iraq, witness after witness would have ensured that his condemnation.
The opening night was certainly graced by an impressive array of celebrities. Rather than the typical glitzy soap stars, this occasion brought out an audience of journalists and lawyers, politicians and actors, mirroring those being portrayed on the stage.
There was however one key absentee from either side of the fourth wall - the man who is soon to resign his position as prime minister after a decade in office. That was a pity, since any conclusion that this tribunal might have reached will have to be regarded as unsatisfactory, without the evidence of the accused. A lot of fun is lost too, as the protagonist would surely have been squirming had earnest prosecutor Philippe Sands, played by Thomas Wheatley, had a chance to lay into him.
Richard Norton-Taylor and his director Nicolas Kent are now very experienced at this style of Verbatim drama. On this occasion, they commissioned a quartet of lawyers to carry out interviews at the beginning of 2007. Those interviewed were many of the most significant players in the drama that led to the Anglo-American peacekeeping mission's entry into Iraq, with its incidental consequential "regime change" and the removal of President Saddam Hussein.
This evidence was then threaded together allowing the eleven witnesses, whose testimony makes up the evening, to portray the events from differing perspectives.
The prosecution is led by Sands, supported by Alison MacDonald (Morven Macbeth), while a visibly stressed Julian Knowles, who does his best to defend Tony Blair, is played by David Michaels, seconded by Blinne Ni Ghralaigh (Charlotte Lucas).
Many of the statements can be rather dry and somewhat repetitive, as would undoubtedly have been the case if a court (or parliament) had debated the indictment of a sitting prime minister. Strangely, it is the politicians who inject most wit, with Diane Fletcher making a lovely attempt at bringing us the eccentricities but also the honesty of Clare Short and Roland Oliver demonstrating that Michael Mates is on another planet.
A third MP, surprisingly from the Labour side, Bob Marshall-Andrews is perhaps Blair's sternest critic doing everything but calling his political leader a liar.
Perhaps the strongest evidence against Blair is a remarkable and completely inexplicable offstage volte-face by Attorney-General Lord Goldsmith, who over a ten day period changed his view that there was little evidence to justify war.
As straight drama, this genre tends to be short on action. Called to Account lacks narrative tension as it is not a cut and thrust reconstruction of a real tribunal. It must be regarded as a popular political entertainment rather than a fully-rounded investigation or a traditionally well-made piece of theatre.
These kinds of evenings are fascinating for a politically committed audience, especially one that knows much about the background to events. This one will inevitably sell well (rumour has it that touts will soon be returning to Kilburn). It could even get a West End transfer, despite the fact that our publicity loving PM is not on stage to answer what might well have been indefensible accusations. What a coup that would have been for the Tricycle!
Reviewer: Philip Fisher