Camille O'Sullivan: Where Are We Now
Camille O'Sullivan
Underbelly's Circus Hub on the Meadows
–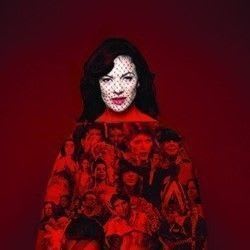 Camille O'Sullivan has worked hard to develop a dark persona but, even so, one suspects that the Irish chanteuse with the powerful, smoky voice can see the lighter side of life.
Where Are We Now marks her 13th appearance at the Fringe. This somehow seems appropriate in a year that has been unkind to her industry.
Over the trademark black costume, she initially appears on stage like some gothic Little Red Riding Hood, her cloak symbolic, featuring portraits of numerous musicians who have passed away.
Her show then largely focuses on their work. Indeed, she announces that it is a love letter to Leonard Cohen, a hero with whom she clearly empathises.
Forget happy poppy songs. This lady is no Katy Perry or Taylor Swift. Her influences are Cohen and other downbeat heroes such as Nick Cave, Jacques Brel and David Bowie ("Rock 'n' Roll Suicide" being a relatively cheerful contribution to proceedings), mixing ballads with rock riffs, sometimes in the same song.
Camille O'Sullivan seduces her audience, conveying feeling that seems genuine and heartfelt regarding the woes of the world, including a cackling anti-homage to the President of the USA.
The attractions of this 90-minute performance, accompanied by a guitarist, keyboard player and drummer, lie in the chance to see a consummate performer live, singing inventive arrangements of songs familiar and otherwise.
Reviewer: Philip Fisher