Camp Be Yourself
Betty Jane Walsh and Emilia Stawicki
BOX Theatre Company
The Other Room, Cardiff
–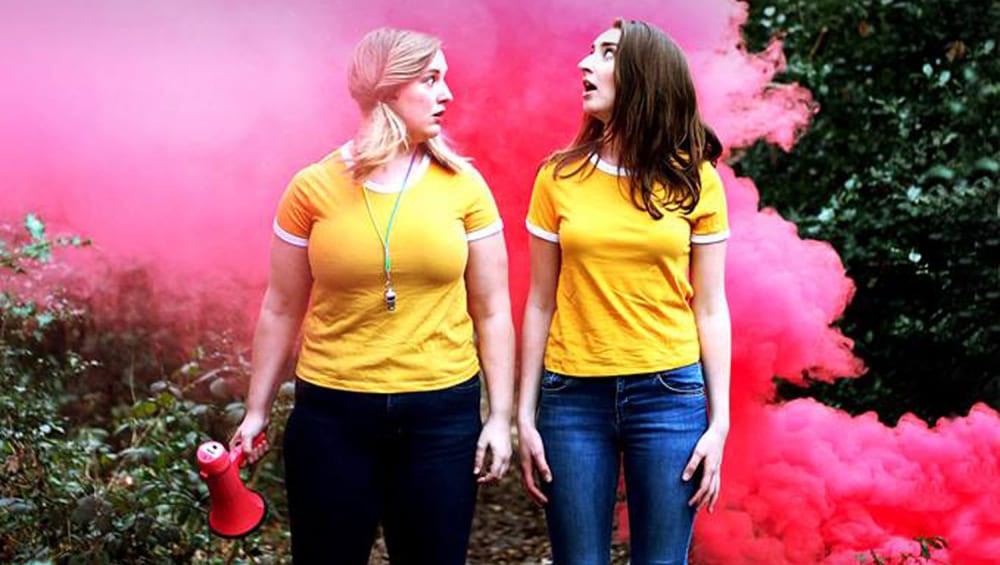 The idea of the summer camp, where children are packed off during the long holidays to indulge in self-improvement-oriented activities (music, sport, science etc.) for a couple of weeks, doesn't seem to have taken root over here, perhaps for weather-related reasons. Nevertheless, the concept is familiar from countless Hollywood movies and Camp Be Yourself uses such an institution as the backdrop for some highly effective comedy.
Box Theatre Company, formed by two American alumni of the Royal Welsh College of Music and Drama, has brought this show back to Cardiff as part of the Spring Fringe Season at The Other Room, following an Edinburgh run in 2018.
At Camp Be Yourself (adjacent to Camp Woodcock), a group of ten-year-old girls (including the transgender Billy) are being put through a programme of exercises and rehearsals aimed at honing their theatre skills. Our Camp Counsellors are Betty Jane Walsh's Betsy and Emilia Stawicki's Emily, who welcome us warmly as we enter the theatre to the strains of "Party in The USA and "YMCA".
Both exude confidence, although Emily cannot hide the fear in her eyes, and Betsy's brash authoritativeness is bolstered by prescription stimulants. Betsy is the more theatrically ambitious of the pair and has already, even in her early twenties, suffered her share of professional disappointments. Emily's traumas, in contrast, seem to stem from an unfulfilled personal life.
It emerges that the pair first met at that same camp when they were pre-teens. The central spine of the narrative of Camp Be Yourself sees them coach their charges through to their end-of-week performance as their friendship deteriorates.
Walsh and Stawicki are an energetic and convincingly desperate comic duo, adept at playing with the audience. While, mercifully, no-one is called up to participate, there is much humorous eye-balling of camp attendees.
Betsy's artistic pretensions and general frustrations occasionally erupt into inappropriateness—her performance piece entitled "Pussy Protector" alarms both us and Emily. We watch as the pair play both themselves and a number of their charges; we also eavesdrop on Betsy's plaintive, one-sided conversations with a God whom she seems to think of as her agent.
As the week progresses, Betsy's thespian enthusiasm starts to rub off on the increasingly confident Emily. "Borrowing" her colleague's life story for material turns out to be a bad move, however.
There are bigger problems to face, though. The camp is, after all, out in the wild and Mother Nature can be as cruel as any other parent…
Camp Be Yourself is very funny, both gently satirical about the need to perform and (obviously) respectful of it. A few jokes flew over my head (e.g. the bit with the megaphone), but its take on the stresses inherent in coping with a harsh adult world is poignant.
I attended what was billed to be the last UK performance of this show for a while; if this is the case, one trusts that Walsh and Stawicki will come up with equally inspired tragicomic confections in the future.
Reviewer: Othniel Smith