Candide
Music by Leonard Bernstein, lyrics by Richard Wilbur, additional lyrics by Stephen Sondheim, John Latouche, Lillian Hellman, Dorothy Parker and Leonard Bernstein, book adapted from Voltaire by Hugh Wheeler, new version edited by Matthew White
Menier Chocolate Factory
–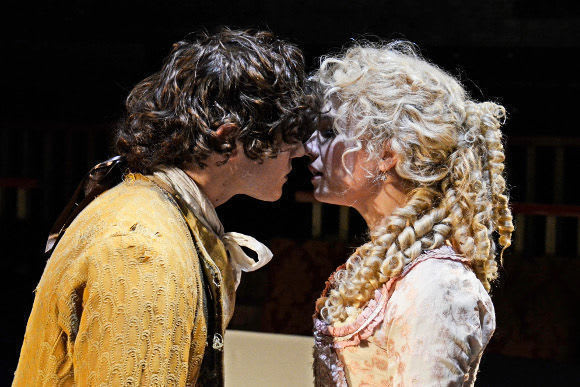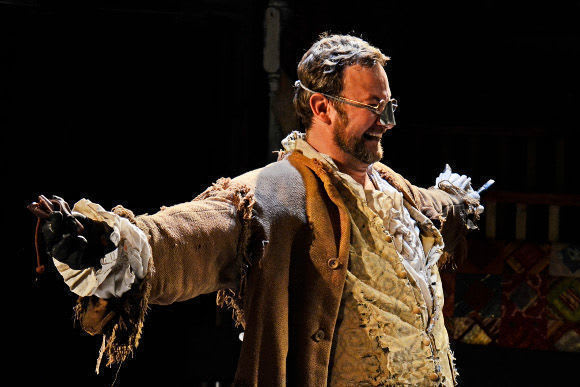 There is now a long tradition of Yuletide hit musicals emanating from the Menier. Like several predecessors, Candide also seems likely to prove yet again that, like a pet, a musical created in this tiny powerhouse is not just for Christmas but must be cherished in a West End home for a long lifetime.
Director Matthew White, who also invigorated Little Shop of Horrors and Sweet Charity, which also started at the venue, has brought out all of the comedy from Voltaire's morality tale in a delightful performance that never flags.
It helps that he has brought together an excellent cast led by Scarlett Strallen and Fra Fee with James Dreyfuss and Jackie Clune giving strong comic support in the other leading roles.
However, the whole cast do their bit, whether sharing narration of an episodic, picaresque romp that travels from Westfalia to Venice via various European destinations and also the New World, singing with gusto or performing balletic vignettes choreographed by Adam Cooper.
In the early scenes, Voltaire offers up a traditional love story as Fee's Candide, a model of naivety, falls for his wealthy master's beautiful daughter Cunigonde, Miss Strallen. All seems set for a happy union, the couple knowing that, as their philosophical tutor Dr Pangloss constantly reminds them, "everything is for the best in the best of all possible worlds".
It doesn't take long for this Edenic existence to dissolve. Banished by his angry host, Candide travels the globe becoming inter alia a soldier, a drag artist, a gentleman's gentleman, an adventurer and a multiple murderer, all the while retaining his charming natural innocence.
The same cannot be said for his lady, who is swiftly turned into a courtesan and plays the part to the manner born. Despite this, throughout the 2¾ hours, Candide retains hope and his subtitle, optimism.
All of this drama takes place in-the-round, sometimes behind and above the heavily involved audience on Paul Farnsworth's all-encompassing colourful, period set. This is complemented by lavish costumes and great invention, including some memorable puppetry.
The story is enlivened by Leonard Bernstein's score, with a stream of memorable songs, the two leads taking the singing honours, especially Miss Strallen who hits the highs in every sense while trilling through "Glitter and be Gay", a comic tour-de-force. "Auto-da-fé" somehow manages to combine horrific executions with upbeat music, while "What's the Use" and "Make Our Garden Grow", should leave the audience happy at the end of the evening.
In addition to the main quartet, Cassidy Janson as cheeky maid Paquette and David Thaxton playing Cunegonde's brother Maximilian, a man with a charmed life, also make significant contributions.
Not only is this new production strong musically, it is also bursting with life and a sense of fun. There seems every chance that its tenure at the Menier will be characterised by enthusiastic full houses and the producer should already be looking for an appropriate West End venue to stage a transfer.
Reviewer: Philip Fisher