Cannonballista
Liz Clarke
Sherman Theatre Studio, Cardiff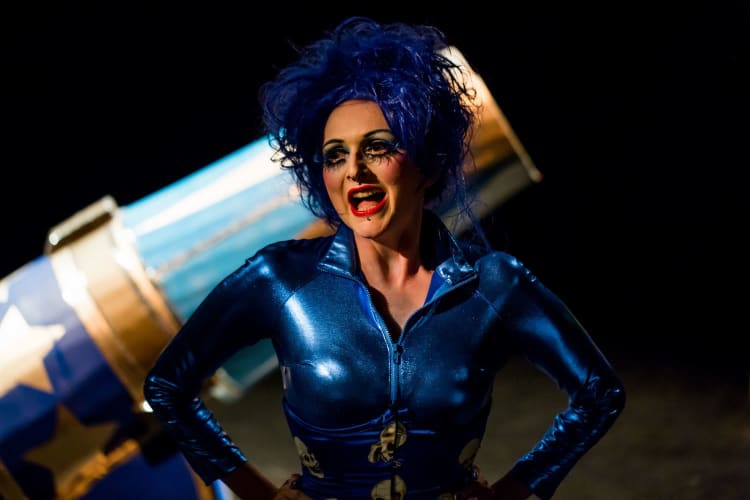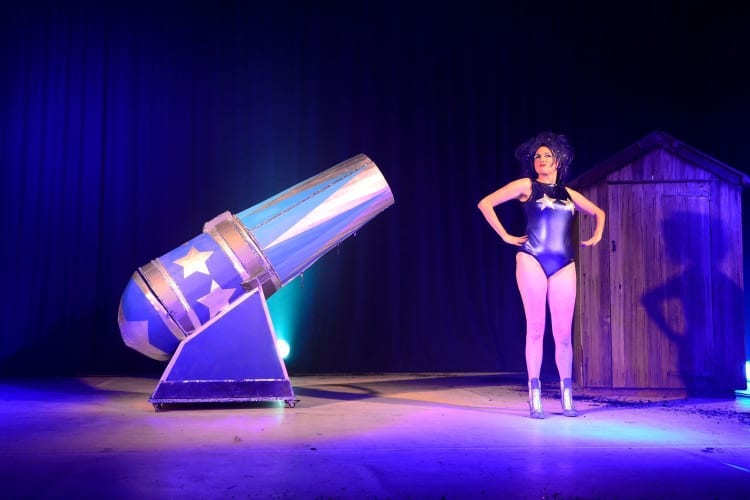 Liz Clarke's Cannonballista arrived at the Sherman on International Women's Day, on the last date of a very sporadic tour. From the online pre-publicity, one might have expected an in-your-face, feminism-inflected take on avant-garde circus; what transpired was a more intimate take on empowerment.
The entertainment has already begun as we file into the Studio, with jaunty cello music being played live and Ms Clarke welcoming us, shepherding unwary punters past the piles of soil which decorate her set. In a costume and make-up redolent of burlesque (or perhaps more appropriately, drag), she informally chats as we take our seats, introducing musician Sarah Moody and sign-language interpreter Erika James.
As she show begins, Liz discusses her mischievous childhood alter-ego, "Zil", and her happy family life. Presently, however, bereavement occurs, and she finds herself wallowing in despair (symbolised by the soil).
She is rescued from despondency by the appearance of an adult version of "Zil", named Betty Bruiser. Colourful, loud, outgoing and flamboyant, it is Betty who sees Liz into a fulfilling life as an artist and performer.
The programme notes tell us that the show has grown out of the Newport-born, Bristol-resident Clarke's experience of running performance workshops which allow women to overcome personal issues and explore their inner strengths. Thus, Betty Bruiser is more than the Sasha Fierce/Lily Savage-style public persona of an otherwise less outgoing performer—she is the means by which our narrator negotiates both creative and "normal" existence.
The thrust of Cannonballista, directed by Holly Stoppit, involves Clarke outlining her life story, shifting between personas, as we build towards Betty's defining, confidence-building set-piece stunt, involving a garishly decorated, subtly phallic cannon. There are several costume changes, Betty favouring revealing, shiny blue outfits (designed by Penn O'Gara). These generally take place in the incongruously unglamorous shed at the back of the set.
It is at these points where Vivi Stamatatos's video projections come into their own, both enabling the avoidance of awkward silences and providing scope for witty interaction. Chris Illingworth's lighting design is suitably showbizzy; and the music, combining Moody's live playing (veering from the poignant to the raucous) with Sam Halmarack's sound design, is highly effective.
It must be said that the narrative, unfolding over around 70 minutes, is a tad threadbare, and Clarke's script might benefit from tightening up. More humour (or perhaps more pathos) could have been mined from a greater distinction between the "ordinary" Liz and the brassy, egotistical Betty; the easy, conversational tone of the show does contribute to its charm, however. Thus, even the audience participation is forgivable.
The big "human cannonball" moment is amusingly and inventively anti-climactic, leading to a more thoughtful resolution than might have been anticipated, as Clarke seems to wonder whether Betty has outlived her usefulness as a coping mechanism.
At the beginning of the show, Clarke seems to suggest that this may indeed be the last we see of Betty. Given the warmth and enthusiasm with which she was greeted by a lively, supportive and engaged audience, I find this hard to believe.
Reviewer: Othniel Smith