Can You Live Without It?
Dreamarts
Cochrane Theatre
(2006)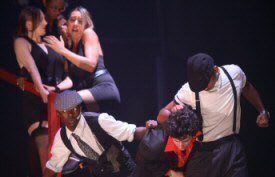 Dreamarts should be very proud. They have come a long way from the days of producing musicals to showcase the talents of a selection of children from Westminster.
The cast of Can You Live Without It? are aged 16-24 and several demonstrate the kind of talent that suggests the possibility of a career on stage or screen. As in the past, every element of the production has been led by youngsters, which makes the project's overall quality a real compliment to all concerned.
The underlying story behind this gangster tale is Aristophanes' Lysistrata, the notorious play about a women's sex strike called in order to persuade their men to give up warring and killing each other.
The tale has been moved forward to London today, with the main settings a well-designed bar and hair salon.
The back story takes us to the wedding of Muzzie and Jasmine (Daniel Wildman and Ana Peralta), very much in love but too close to gang wars that result in the bride's hospitalisation and almost her death.
Temitope Akin-Olugbemni's brave hairdresser, Lacey, decides that it is time to take action and instead of merely telling her two-timing boyfriend Paul Baker as Sean that she is withdrawing her favours, teams up with a couple of dozen others to ensure that every man in town will stay unhappy until they calm down.
That is the basic plot and, inevitably, just short of three hours from the start, a happy ending ensues. There is a lot of pain on the way though.
The men led by Jummy Bolaji's LB, the hairdresser's brother, really struggle but women too need their comforts and it is only by the skin of her teeth that Angel doesn't let the side down. This slapper is played by a really talented comedienne Jade McKean, who with her tremendous control of facial and bodily expression, could well end up in TV sitcoms.
Can You Live Without It? is somewhere between a play and a musical. This suits several versatile cast members and the two leading actresses can both sing and act well, with Leonie Auguste as LB's spendthrift wife Veronica excelling at the former thanks to a sweet jazzy voice, while Tope Aikin's easily deals with a big part (no pun intended).
The support is generally strong with Zenobia Adams, playing the deserted Caribbean mum, and Paul Baker showing considerable ability as character actors. The large cast sing well together to a ten-strong live band offering music in several styles, while against tradition, it is the men that really shine when they get on to the dance floor.
The production recovers from a rocky, inaudible start to provide great entertainment with the comedy leading to a touching finale.
Reviewer: Philip Fisher