The Caretaker
Harold Pinter
Trafalgar Studios 1
(2010)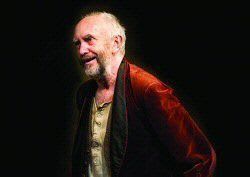 Christopher Morahan's production, first seen in Liverpool, is a worthy revival to celebrate the Golden Jubilee of the first West End production of this Pinter classic.
It stars Jonathan Pryce, now a Hollywood and Broadway star, a real Welsh actor playing Davies for once. He gives a virtuoso performance as the xenophobic tramp verging on madness but, one feels, only a few words of kindness away from a hopeful future.
In some ways, it cannot be much fun playing a part that requires one to wear costumes that look as if they reek to high heaven, sleep in a bed to make the fastidious squirm and take yourself into areas of the psyche that might better remain unexplored.
Pryce, who has been promoted from the role of Mick, which he played to Warren Mitchell's Davies at the National 30 years ago, rises to the occasion. In doing so, he takes his character from initial angry instability towards duplicitous, self-possessed aggression, as the down and out begins to feel a degree of security in the company of the two brothers who have taken him in.
Peter McDonald is Aston, a slow, gentle man who is happy to put a (leaky) roof over his guest's head in the junk-strewn attic that has become his home. He is much put upon and it is only towards the end that his secret is revealed.
This occurs in a stunning speech delivered with such feeling that it drew spontaneous applause from an opening night audience graced by a whole host of actors and also the playwright's widow Lady Antonia Fraser, whose touching diary/memoir of her life with the great man, Must You Go, has just been published.
The final member of the trio appears the sanest but in reality is no more stable than his fellows. Sam Spruell's chillingly threatening Mick is yet another loner, who enjoys playing power games with those even weaker than himself.
That may well be the point of this play. Pinter incisively explores the way in which human beings inevitably, like dumb animals, try to make allegiances to further their own ends and in doing so gain at least a modicum of self respect. However, he also recognizes that, as often as not, these dispossessed losers will get nowhere near to achieving their goals.
In doing so, he expertly mixes his trademark menace with a great sense of humour, perhaps seen at its best in a short pass-the-parcel sequence that is simultaneously highly amusing and deeply symbolic.
With its echoes of Beckett and, in particular, Waiting for Godot, as Davies constantly puts off his trip to recover what may will be a false identity in Sidcup, The Caretaker proves to be a really rich, if not always transparent, play. With gripping productions featuring acting of this quality, there is little doubt that it will remain in the popular canon for another 50 years at the very least.
Reviewer: Philip Fisher