The Car Man
Matthew Bourne, music by Terry Davies and Rhodion Shchedrin's Carmen Suite (after Bizet's Carmen)
Sadler's Wells
(2007)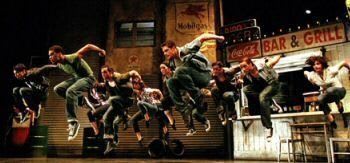 Matthew Bourne's success in this work and others rests on his ability to make dance theatre appeal to fans of each of these genres. In The Car Man, he also combines classical with modern, specifically Bizet's Carmen and Forties Film Noir classic, The Postman Always Rings Twice.
The opera about love and death amongst toreadors and the movie focussing on an unstoppable illicit liaison have one major factor in common, a massive dose of steamy, murderous passion. Bourne ensures that they come together smoothly thanks to his vision, some stirring music, jazzed up by Terry Davies, and a perfectly-drilled team of talented dancers who give their all.
Lez Brotherston's set comes straight out of Edward Hopper's 1950s small-town America. Before dissolving into a nightclub, it shows the centre of a hick town ironically named Harmony. The key features are a gas station/car repair shop, a drive-in cinema and a bar that has seen better days.
In this space, with a couple of cars to add authenticity, the male dancers become latter-day toreadors while the women are their blowsy molls.
The opening scene has a sign "Man Wanted" and this sets the theme for the evening as these words take on multiple meanings before the final gunshot rings out.
That man is muscular, Elvis-quiffed drifter, Alan Vincent. He arrives looking for sex and a job and gets both from the same couple. Hapless small-scale entrepreneur Dino, played by Scott Ambler, has somehow married long-legged, local beauty Michela Meazza's Lana (a homage to Miss Turner who starred in the original Postman?).
As soon as greasy Dino's back is turned, Drifter is all over his wife and the stage fires up with steamily erotic dance that is soon multiplied by six more couples, one of the same sex. Hardly has he finished with Lana though, but the sex-crazed visitor is in the back of a car with someone else, whose identity elicited gasps and giggles from teens in the audience.
Running in parallel with the tempestuous affair is a romance between the local misfits, Lana's sister Rita and geeky Angelo. This couple, played by Kerry Biggin and Richard Winsor, seem destined for quiet happiness until a murder is committed and, inadvertently, Angelo is imprisoned. Enough of the plot, except to say that, as in all the best films of this type and era, there is a moral ending.
Matthew Bourne's work has proved a great popular success since its debut in 2000. This is as much due to his humour and vision as the great choreography. This is certainly the case in The Car Man where there are many memorable images ranging from erotic dance-sex to a superbly realised joy rider race and romantic duets.
Bourne also has a special ability to tell a narrative in dance that does not require background knowledge or deep understanding of the art. A layman can get as much from this work as a dance addict and this explains why Sadler's Wells might well be sold out for the next four weeks.
Reviewer: Philip Fisher