Carmen
Composer Georges Bizet, libretto Henri Meilhac and Ludovic Halévy after Prosper Mérimée
English National Opera
London Coliseum
–

Listing details and ticket info...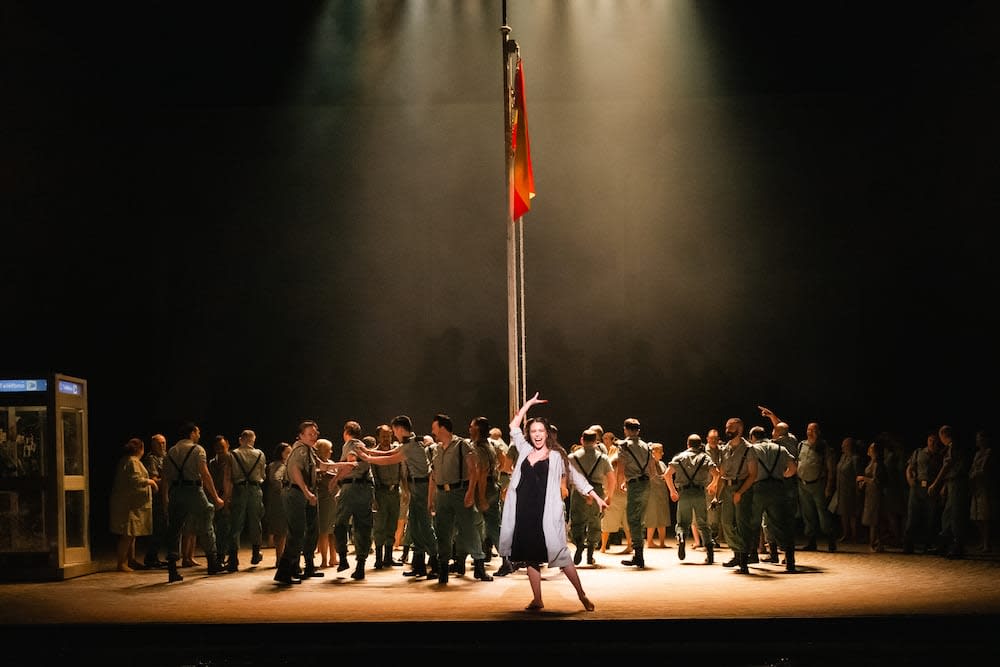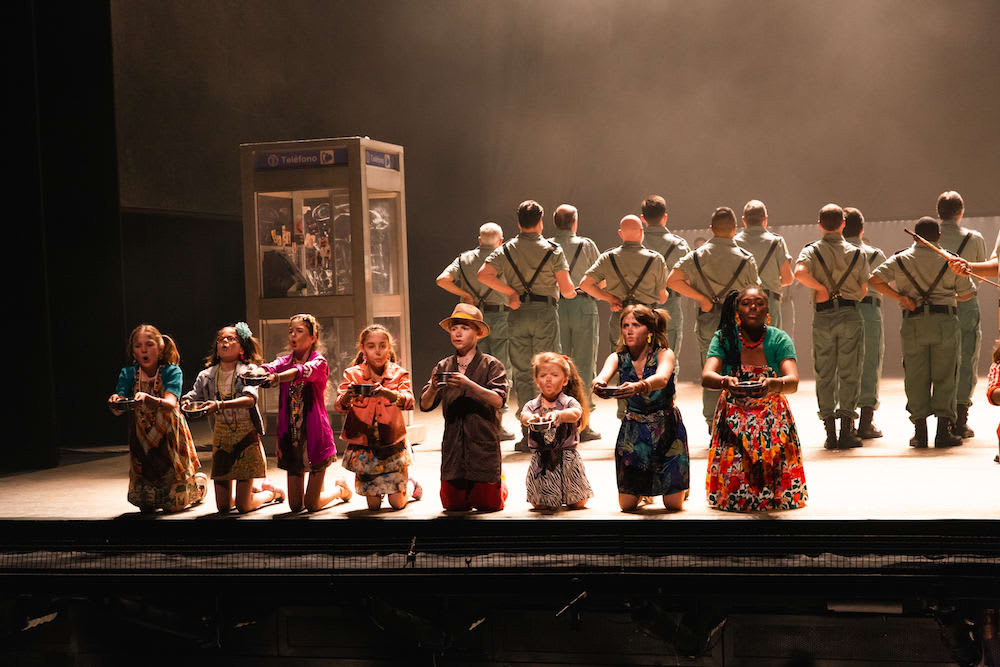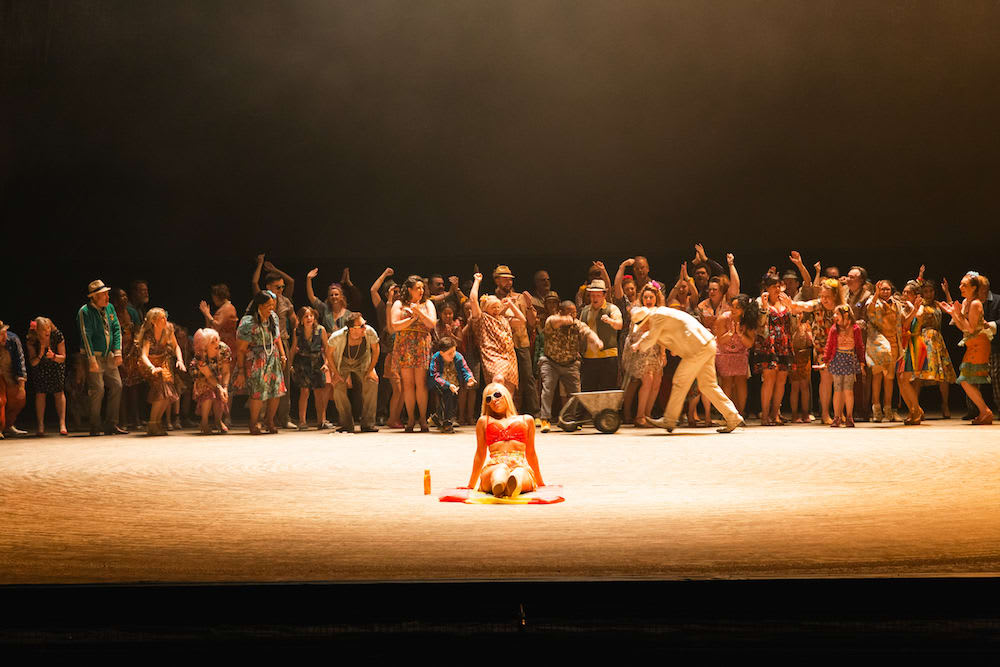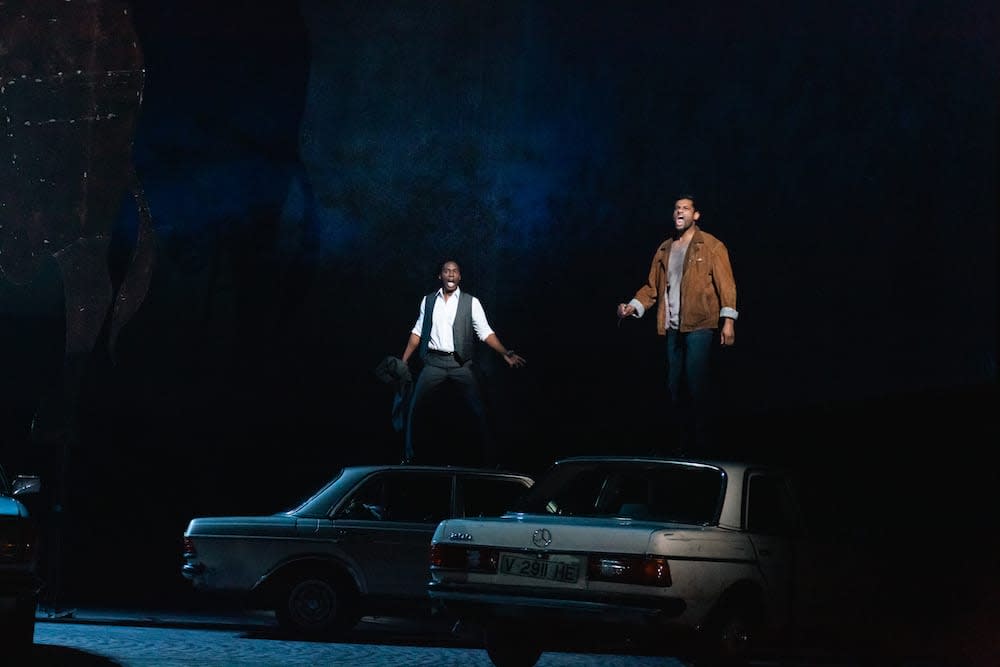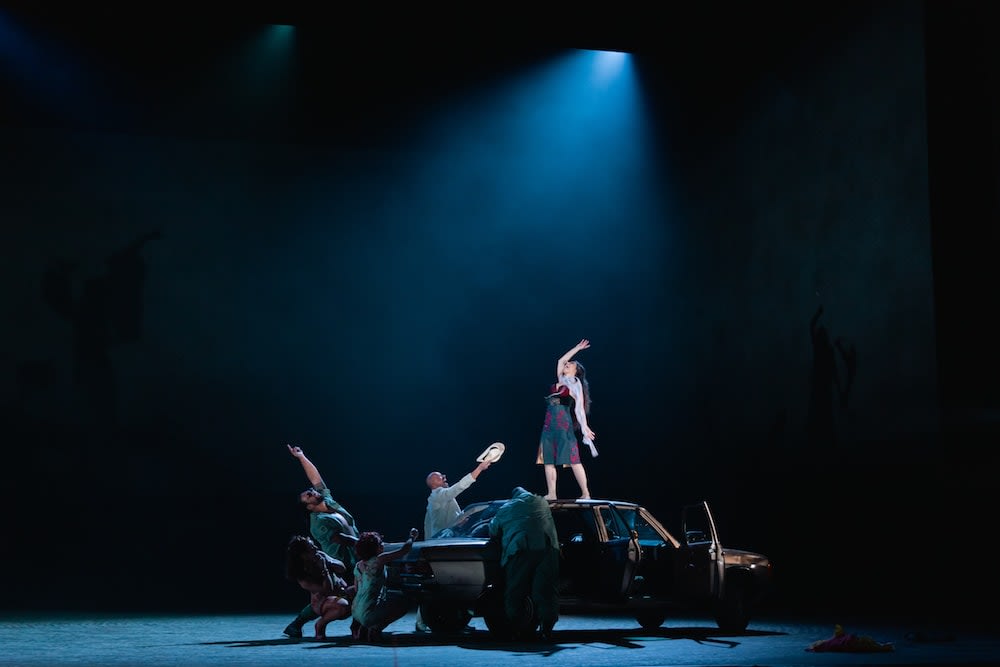 In French l'amour and la mort (love and death) sound almost interchangeable. In Bizet / Mérimée's crime passionel tale, they are one and the same—the ending is inevitable. Raw, fatalistic, nihilistic living on the edge of unscrupulous society...
Hearing it in English (translation by Christopher Cowell) makes one aware more than ever that this opéra comique with dialogue interspersing the 'songs' is the precursor to musical theatre (never mind verismo opera). There are so many versions of the 'Carmen' story across the board.
Calixto Bieito's 2012 version, revived here for the third time (revival director is Jamie Manton), set in seventies Spain near the end of general Franco thirty-six year fascist rule, is a tawdry, drab world. Soldiers in military khaki, female workers in grey overalls, the crepuscular world of cross-border smugglers, to which gypsy Carmen is affiliated or inescapably tied.
The men are randy creatures; the women roadside whores; children street urchins and beggars (I counted twenty)—at least their raggle-taggle outfits are colourful. Pimp Lillas Pastia (actor Dean Street a menacing figure in his white suit and red handkerchief) is not far away. It's all about survival, greed and casual brutality.
Love is for sale. Poor corporal Don José (tenor Sean Panikkar) doesn't stand a chance once in Carmen's fickle spell. A good man turned by love (or lust) to go AWOL. Intoxicated, possessive, he can't let go. He joins the smuggling gypsies. And what a tease Carmen (gutsy mezzo Ginger Costa-Jackson making her ENO debut in the role) is, taunting him with her love for flirtatious toreador Escamillo (baritone Nmon Ford), a celebrity smoothie in his shiny black suit.
But it's a desolate land—minimalistic sets are by Alfons Flores. Act one sees the bare stage adorned with an army flagpole and a phone booth, which the soldiers climb all over like chimps in a zoo when Carmen is inside. Men as beasts and women their prey…
There is no bar in act two, just more dingy stage. The coup de théâtre comes in act three when six cars drive on stage with smugglers' booty in big laundry bags, and a crude bacchanalia unfolds with soldiers as willing victims.
The cliché that is the mighty Osborne bull, silhouetted against the skyline, is pulled down and disassembled before our eyes. Is this Bieito indicating the end of Franco? Or is soldier boy José, part of the macho military, about to get a deserved comeuppance?
Act four is a sandy arena, on which, incongruously, a young woman in shades sunbathes on a Spanish flag beach towel. On this arena, the bull is Carmen and the toreador José. Preferring death to subjugation (another Franco reference?), like that bull facing its death, she has no other option.
The standout performances are Panikkar and soprano Carrie-Ann Williams (a last-minute replacement for Gemma Summerfield), who sings Micaëla come to fetch him to his sick mother's bedside. Their lyrical duet is lovely, and when he sings of his mother's face and nostalgia for home, it has something of Bizet's Pearl Fishers duet. But he has no time for that, consumed as he is with his cursed passion. Panikkar makes a handsome lead and is a fine actor—one believes in him totally, his arias are absolutely wonderful. Both get deserved ovations.
Alexandra Oomens, and Niamh O'Sullivan, making her ENO debut, seem to enjoy their full-on roles as Frasquita and Mercédès respectively. Bass baritone Keel Watson reprises his role as Zuniga, with baritone Benson Wilson as Moralès, both doing their best to be thuggish.
The familiar music and arias as always are people pleasers and pull an audience in. One could almost sing along with it, or at least hum. Kerem Hasan conducts the ENO Orchestra, and gets a standing ovation on press night.
Early nineteenth century drama, exotic gypsies in shawls and the rest, transposed to the twentieth, has lost as much as it has gained in contemporary interpretation.
Tonight is ENO's 92nd birthday: celebration is in the air, tempered by its uncertain future. The company has much to be proud of, not least its free ticket scheme to the under-21s. Apparently, it is the only company in the world that does that.
Many illustrious guests are in the audience, MPs and television presenters—let's hope between them they have enough clout to secure ENO"s financial stability. The ENO family ought not to be pulled asunder—it does feel a family tonight.
Reviewer: Vera Liber