Caroline's Kitchen
Torben Betts
Original Theatre Company
Mercury Theatre Colchester
–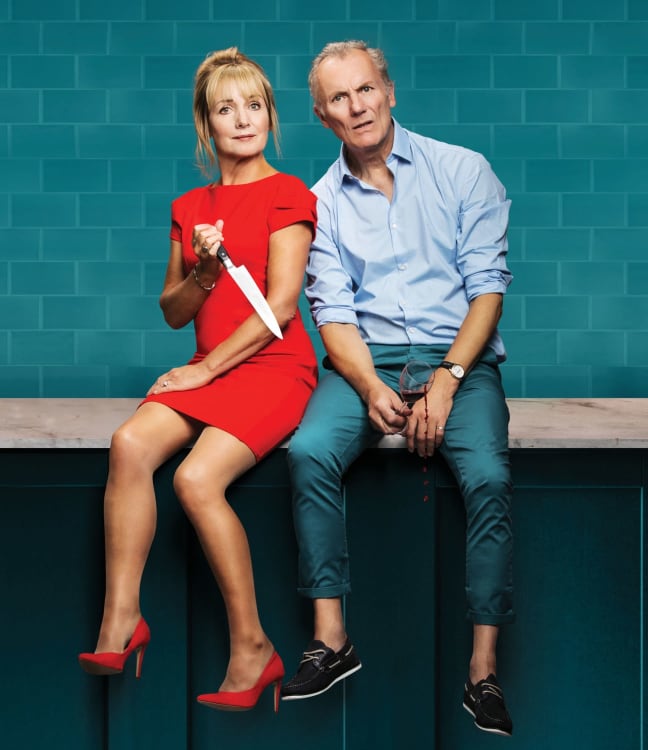 Torben Betts is a contemporary writer with a number of plays under his belt and a good reputation. Alistair Whatley's Original Theatre Company is very experienced with a substantial body of work behind them. So I was looking forward to this new piece of writing—which is destined for Broadway after its initial UK run.
Caroline's Kitchen started off as a play called Monogamy which did a run at Park Theatre, London and was then reworked. Its premise is an interesting one: looking at the clash between the public and the private lifestyle of a celebrity cook. Unfortunately, something has been lost in the rewrite and we now have a play that's a cross between Abigail's Party and an early Alan Ayckbourn, performed at the speed of an express train—but more of that later.
On a very detailed set depicting a suburban, middle class kitchen, Caroline (a frenetic performance by Caroline Langrishe) is found rehearsing for her cookery programme. But apparently this is also the family kitchen, so, in a couple of shakes of a lamb's tail, the lights are packed up, the cameraman banished and she can get on with cooking the family's evening meal. Obviously, writer Betts has never been in a TV studio or on a film set!
Caroline is expecting her son Leo (Tom England) back from university, who duly arrives with a rucksack and a vegan attitude. He's gained a first but wants to live a little and go off to do good in Syria while his parents would rather pay off his student loan (£50,000) and buy him a nice flat (£250,000?)—how the other half live, eh?
He's also got the open secret of being gay that he needs to break to his father Mike (Aden Gillett), a typical golf-playing, middle-England director type who is full of himself and is as boring as hell and who also arrives to spout on about his day on the course and his various ailments while ignoring the chaos going on around him.
Add to the mix Caroline's feisty Sloane Square PA Amanda (Jasmyn Banks), the hunky builder Graeme (James Sutton) with whom Caroline is having an (unlikely) bit on the side and Graeme's clinically disturbed wife Sally (Elizabeth Boag) who has found out what's going on and has come to confront them and you've got the ingredients to... well to an Alan Ayckbourn or a Brian Rix farce, but not really a modern or original play.
The piece is not without some merit—a lot of the dialogue is well written even if the characters are fairly obvious, and there are some interesting insights into the problems of young verses old and the actors give it their all. But the humour relies on '70s stereotypes and references (gays, dusky maidens etc) and one main problem is it's all performed at 90 miles an hour so there's absolutely no room to develop the characters or put in any light and shade. As one absurd scene folds into another, you feel like someone is driving an express train through your head.
It also means a lot of the more subtle humour is lost and there is certainly no sympathy built up for any of the characters, so when what is meant to be a shocking ending arrives it's all a bit of an absurdist damp squib.
But most importantly it fails to fulfil its remit—there is nothing in this piece about the life of a celebrity cook and very little exploring the problems of living a life in the public eye. Now that would have been an interesting subject to explore...
Reviewer: Suzanne Hawkes