Caroline, or Change
Book and Lyrics by Tony Kushner, Music by Jeanine Tesori
RNT Lyttelton
(2006)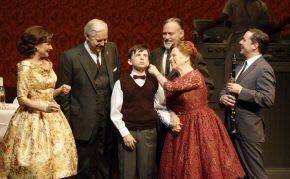 Caroline, or Change is a wonderful, life affirming musical that combines some of the political concerns of Tony Kushner's Angels in America with a vibrant mix of musical styles.
This semi-autobiographical play was originally developed at the Public Theatre in New York under the aegis of its artistic director at the time, George C Wolfe, who also directs the London transfer.
Unlike most musicals, the book focusing on the experiences and interactions of Jews and Blacks in the early 1960s could successfully work as a straight play. Add in a cast that contains possibly the best combination of singing voices currently working together on a London stage and you have something really out of the ordinary.
In any event, this is something of a landmark, since, unlike his predecessor Sir Trevor Nunn, who ensured that a money-spinning musical was playing on one of his stages for most of the year, until now Nicholas Hytner has avoided them as if they had gone out of fashion.
The play is set in Louisiana in 1963, a period of great change for both the black community and the country at large. It opens in the basement laundry of a Jewish family's house occupied by their coloured maid Caroline Thibodeaux and her friends, the washing machine, the drier and the radio.
Each of these machines is given a human voice of impressive strength and tunefulness. Malinda Parris and Clive Rowe combine as the cleaning apparatus while a gold sequinned trio, reminiscent of the Supremes back then, breathes life into the radio.
Caroline herself is played by Tonya Pinkins, who received numerous awards in the States in this role and it iis easy to see why, since her acting is good and her voice sensational. She plays a single mother of three lively scamps, who, after the death of his own beloved mother from cancer, becomes a surrogate parent for young Noah Gellman, played on the opening night by the very enthusiastic Perry Millward.
While his father is happier to play his clarinet than indulge in family business and his stepmother, the wonderfully named Rose Stopnick Gellman played by Cherie Blair lookalike Anna Francolini, does her best to gain his affections, Noah is happier to retreat to the laundry room.
When Rose gets sick of his lazy, spendthrift ways and tells him that she will give any loose change forgotten in his pockets to the maid, the eight-year-old cooks up a plan to become a mini Robin Hood financing this family whose escape from slavery is hardly complete. That point is well made as several of the songs that Caroline sings have their roots in the spirituals sung by ancestors when they were still in chains.
Almost inevitably, a child's innocent charity eventually gets him into trouble and moral difficulties, when a Hanukkah gift goes missing.
The music varies through soul and R&B to klezmer and Jewish folk tunes and is rarely less than beautiful thanks to the tremendous singing of those already named and also Angela M. Caesar (playing the Moon no less!), Nora Cole as the maid's ambitious friend Dotty, and Pippa Bennett-Warner as Caroline's daughter Emmie.
The young girl represents a generation that has very different views about the black experience and has great aspirations for her own future. While everyone else is devastated by the death of JFK, she is more interested in the inspirational words of Martin Luther King. The upbeat ending suggests that at long last, there is real hope for her community.
Riccardo Hernández' sets are incomplete in the style of Patrick Caulfield and contrast the relative affluence "above stairs" with the clean but underfinanced spaces occupied by the Thibodeaux.
With excellent comic lines, real pathos and political depth this is a strong play as one would expect from Tony Kushner. With the added brilliance of so many of the singers and wide variety of music that they are allowed to embellish, Caroline, or Change is something pretty special.
Reviewer: Philip Fisher