Carousel
Music by Richard Rodgers, Lyrics by Oscar Hammerstein II, based on a play by Ferenc Molnár adapted by Benjamin F. Glazer
Savoy Theatre
(2008)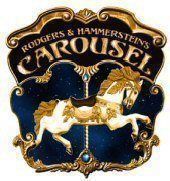 Lindsay Posner's revival of the Rodgers and Hammerstein favourite succeeds primarily because of the loving care that he has taken to put an artistically varied production together.
In almost every category, Posner has chosen leading exponents who repay his confidence with enthusiasm. In fact, it is only the acting that is too often sub-standard, as the performers have generally been chosen more for their singing and dancing skills than characterisation abilities.
This team also manages to live with another truly magical series of computer-generated 3D designs by the originator and master of the form William Dudley.
In The Woman in White, the onstage activities were sometimes little more than a distraction from his visions. This time, a number of impressive performers hold their own. They do so in the face of such art-inspired delights with moving parts as a stretching from a Gertler Carousel/Merry Go Round to a Hopper Lighthouse and, best of all, a stunning night-time sea journey that brought an involuntary smile to this critic's face,
Carousel is not the greatest of stories, with Ferenc Molnár's play as adapted to Moby Dick country in 19th Century New England by Benjamin F. Glazer. The melodramatic plot is filled with characters who are portrayed as either black or white and with a strong tendency towards sentimentality. That comes to seem a mere detail as there are enough memorable tunes with strong lyrics during the three hours to win over the hardest heart, not to mention lashings of great dance and imagery.
Even so, you may struggle to understand why impossibly good Julie represented by the rich-voiced Alexandra Silber falls for the violently moody carnival barker, Billy Bigelow. In the latter role, Jeremiah James, who acts as powerfully as he sings, covers his character's inconsistencies so that one is almost convinced by his unlikely post-mortem goodness.
This pair is contrasted by petite, vacuous Carrie Pipperidge, professional stage debutante Lauren Hood offering a prime example of casting for a really sweet voice rather than the highest level of dramatic ability, and her dull as dishwater husband, Alan Vicary's Enoch.
The story is then given added colour by three additional characters. Lesley Garrett excels vocally as restaurateur Nettie Fowler leading the cast in June is Bustin' Out All Over. She also unforgettably sings You'll Never Walk Alone, as a more operatic solo in a rehearsal for a future pre-FA Cup final role, which with chorus stirringly later brings the evening to a rousing ending.
A real actress, Diana Kent plays the wronged carousel owner Mrs Mullin, a widow who resents the loss of her star attraction and lover to the younger Julie, while Graham MacDuff proves a good all-rounder as evil Jigger, a whaling captain with a dark heart, twinkling feet and dodgy playing cards.
In addition to memorable tunes beautifully performed and the tear-jerking story, Posner has enlisted Adam Cooper to pep up the choreography. He succeeds in a number of group scenes led by the tall, graceful Victoria Hinde who is mesmerising.
She has little competition as star of a strong dance ensemble until Lindsey Wise, once Young Dancer of the Year, appears in a dazzlingly beautiful solo, conveying all of the heartache of a lonely fatherless teen.
By the end, with songs ringing around the head and tears wetting the eyes, audience members will be rushing off to tell their friends about the singing, the choreography and those stunning images.
The Savoy could well have a long-term resident, which is great news for the West End, as once more the doom and gloom merchants begin to talk up the end of theatre as we know it.
Sheila Connor reviewed this production on its pre-West End tour in Woking
Visit our sponsor 1st 4 London Theatre to book tickets for Carousel
Reviewer: Philip Fisher