Carrie's War
Nina Bawden, adapted by Emma Reeves
Apollo Theatre, Shaftesbury Avenue
(2009)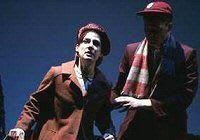 With this transfer from Sadler's Wells, it is almost as if Shaftesbury Avenue has regressed several decades. Carrie's War might well be regarded as Nina Bawden's tribute to Dickens, with a good, old-fashioned tale featuring her own version of Miss Havisham, the obligatory orphan, a wicked man bullying a cowed sister and the kind of names that the older writer loved so much.
Andrew Loudon's staging of an adaptation by Wrexham-born Emma Reeves also belies the modern trend for gimmicky new technology, replacing it with solid sets, designed by Edward Lipscomb, and hymn singing from a mini Welsh choir.
Carrie Willow and her younger brother Nick are wartime English evacuees sent to the mining country of the Welsh-speaking valleys, while Mum becomes a Glasgow ambulance driver and Dad captains a naval ship.
In the way of these stories, they are billeted on poor, put-upon Louisa Evans, EastEnders' Kacey Ainsworth, and her lavishly bearded horror of a brother Councillor Evans, played with gruesome enthusiasm by Siôn Tudor Owen. This is a man so mean that he rations not only the meat but even use of the stair carpet.
Young Carrie, played by Sarah Edwardson who gets the girlish body language exactly right, is far braver than James Joyce as her brother, the kind of little boy who likes whining and eating in equal measure.
Their redemption comes at the home of Prunella Scales, playing a cameo as the Evans' dying sister, Dilys Gotobed (a name that Dylan Thomas might have stolen from Dickens).
There, she shares a house with John Heffernan's bookish Albert Sandwich, on whom Carrie is sweet, as well as Amanda Symonds' West Indian housekeeper with a heart of gold, Hepzibah Green, and the Smike-like Mr Johnny. In that part, the brilliant James Bedard demonstrates that disability should prove no obstacle to an actor with talent and the right role.
For 2½ hours, we are able to enjoy comedy primarily generated by the dreaded Councillor, balanced with an adventure story that will appeal to viewers old and young. This leads to an exciting, if overly sentimental, dénouement, which is liable to bring a tear to the eye as Carrie returns 30 years later to discover the solution to the mystery of the screaming skull.
Carrie's War deserves to be a success with its reliance on traditional values of high quality storytelling with a good share of surprises and solid casting. It is also one of the few shows on in the West End at the moment with the scope to appeal to all of the family.
Visit our sponsor 1st 4 London Theatre to book tickets for Billy Elliot
Reviewer: Philip Fisher