Carrie's War
Nina Bawden, adapted by Emma Reeves
Novel Theatre
Lilian Baylis Theatre, Sadler's Wells
(2006)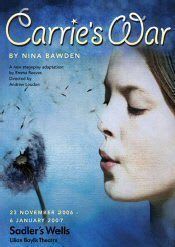 Novel Theatre has discovered a winning formula that has already proved successful with adaptations of Little Women, which achieved a West End transfer, and Anne of Green Gables.
They take a tear-jerker novel, lovingly adapt it for the stage and put the result on in the Christmas season as a more sophisticated alternative to pantomime.
The team that created those hits from American novels of the 19th century moves a little closer to the present time with Nina Bawden's novel of wartime evacuees, aimed at a teen market but also enjoyed by younger children (and adults). The themes, and indeed the atmosphere and pacing, are very similar to the earlier Novel productions but if it works, why try to fix it?
Very few directors or designers would be that comfortable working at the Lilian Baylis which has a very wide but pretty shallow stage. However, Andrew Loudon, the company's artistic director, and his designer Edward Lipscomb seem to relish the opportunity to provide a fixed set, divided into three, in which all of the action takes place.
The interiors of a pair of houses, each shown on two levels, sandwich a rather impressionistic view of the Welsh hillside to which our heroine Carrie Willow, well played by Sarah Edwardson, and her Dickensian scamp of a younger brother Nick (the excellent Mark Field) are sent just before the start of the Second World War.
The company does a great job in persuading us that we are really in Wales, particularly with some gorgeous communal singing exclusively in the Welsh language. The wartime era is evoked by recordings of radio broadcasts, which fit nicely with the plot and, when the children meet their hosts for the duration, is interwoven to great comic effect.
This is because while they are welcomed by Rachel Isaac's sympathetic Auntie Lou, her tyrannical brother Samuel is far less enthusiastic. This Councillor with strong chapel affiliations, played by one of the show's stars Siôn Tudor Owen, does not believe in spending money and has a nice line in Welsh shouting, in a manner not too far from that of the German Chancellor who is heard ranting in time with him.
While life is a little tough for the youngsters - the old man will not even allow them to step on the brand new stair carpet more than twice a day, let alone eat sweets from his shop - it is relieved by their trips to the mysterious house at Druid's Bottom. This seemingly cosy abode may or may not be haunted but certainly contains its fair share of eccentric characters.
It is owned by a woman with a name that sounds as if it is straight out of Under Milk Wood, Dilys Gotobed. This good natured lady is sister to Samuel and Louisa, has a terminal illness and is looked after by her devoted housekeeper, Amanda Symonds as Hepzibah Green, aided by spotty young Albert Sandwich (Sam Crane) and the crippled Mr Johnny.
The latter is played by James Beddard, an actor who has overcome his own disability to follow this career and has already been a star in the film version of this novel.
The story takes place across the two houses, with Mr Evans' seeming cruelty, balanced both by his sister's goodness and the light relief that takes place on the other side of the hill.
Things get rather darker following the death of the invalided Dilys and the disappearance of a will that would protect her tenants from eviction by her seemingly wicked brother.
Some might quibble with Carrie's ineffable goodness and the play's sentimental view of the world but this is the season of goodwill so why shouldn't life be sweet?
As one would expect from a children's tale, even one that is so clearly autobiographical, there is a final, happy ending, although poor Carrie has to wait a generation before her tears join with those of the audience, as the curtain falls on a very satisfying afternoon or evening.
Reviewer: Philip Fisher