Casanova
Created by Carol Ann Duffy and Told By An Idiot
A Told By An Idiot, West Yorkshire Playhouse and Lyric Hammersmith co-production
Northern Stage, Newcastle, and touring
(2007)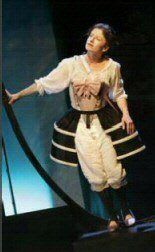 It's rather odd. One of those credited with writing Casanova is one of Britain's most popular poets and yet words are not the most important ingredient of the production. In fact, words are secondary to Told By An Idiot's trademark physical theatre. Not only that, in many places what words there are are not in English. In the first scene, for example, we have Italian, French, Spanish and German, languages which, along with (I think!) Russian, occur frequently throughout the performance.
It's appropriate, of course, because the play charts the progress of Casanova across Europe, from Venice to Paris to Glasgow to Newcastle (presumably this changes according to the venue) to London to Spain to Saltzburg to various places in Germany and, finally, as an old woman, back to Venice.
And Casanova is a woman.
Taking on off-the-wall look at a familiar story, of course, is another Told By An Idiot trademark and gender-swapping (The Kray Sisters, Queen Kong) is a frequent aspect of Carol Ann Duffy's work, so in some ways a collaboration between the two is a theatrical marriage made in heaven and making Casanova a women makes perfect sense. Or it would if threw new light on Casanova's story.
Perhaps it does. This female Casanova (played by Told By An Idiot co-founder Hayley Carmichael) is not the seducer, the sex goddess, the exploiter that one would expect, given the popular impression of the male original garnered from the original diaries and countless interpretations and reinterpretations in books and film. This Casanova is not so much the seducer as the seduced, not so much the mover as the moved. After the hilariously funny seduction of a monk in the first scene, which leads to her being thrown into a Venetian gaol from which she escapes to be pursued across Europe by a detective who is trying to recapture her, it is others who seduce her and her travels across Europe are an effort to elude capture.
In the process she gives Voltaire all his best sayings, provides Mozart with the plot for Don Giovanni, has a child which is adopted into the British royal family, more or less invents bull-fighting, meets and has a major influence on the Pope, Madame de Pompadour and Catherine the Great, and gives a number of hugely successful concerts as a violinist. She is in truth the perfect Renaissance woman, the bonne femme bien cultivée, but one who does what she does not of her own volition but because the attraction she has for others along with circumstances and other people push her into it.
Perhaps we have been too ready to take Casanova (the man) at his own valuation? Perhaps he, too, was the seduced rather than the seducer? Perhaps. But, to be honest, this production doesn't lead us to that, or any other, conclusion.
Part of the reason is that, not being text-based, the play gives us no character development. Indeed, there is no depth to the characters. The story is told through narration, some recorded voice-over, some beautifully inventive physical theatre, none of which are conducive to depth of characterisation although they do generally (although there are a couple of scenes which are perhaps over-extended) move the story along at a cracking pace.
Indeed, what we come away with is not a radical reinterpretation or even a deepened understanding of Casanova the person, but an admiration of the cleverness of the theatrical ideas, the virtuosity of the international cast of seven, the physicality, the simple but effective set (by Naomi Wilkinson) - in short, the form rather than the content. It's great fun - always amusing and laugh-aloud funny in many places - and a good evening's entertainment. But if you're looking for enlightenment, a challenging view of the respective roles male and female or a character-led piece of drama, this isn't it.
At Northern Stage until 27th October, then touring to Liverpool Playhouse and the Lyric Hammersmith.
This production was reviewed by Cecily Boys at the West Yorkshire Playhouse, Leeds, and by Philip Fisher at the Lyric, Hammersmith
Reviewer: Peter Lathan