Category B
Roy Williams
Tricycle Theatre, Kilburn
(2009)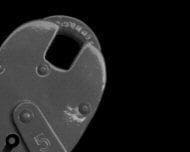 The first play in the Tricycle's Not Black & White Season is a rollicking thriller set in a tough remand prison where the rule of the jungle takes precedence over basic legal principles.
Roy Williams focuses his attention on two characters, each of whom is a representative of their respective groups. With real spirit, Sharon Duncan-Brewster plays Angela, a female warder who is as tough as the men on both sides of the bars. She certainly gives the concept of a working mother a completely new perspective cussing, joshing and flirting with both colleagues and inmates.
Her oppo amongst the prisoners is a far more complex character, the equally good Karl Collins as Errol. He is the prison's intellectual but at the same time has a record of violent crime as long as his arm and the kind of wired personality that suggests schizophrenic tendencies at the very least.
The plot may seem familiar, but primarily because there are only so many things that one can do behind bars and everybody has seen The Shawshank Redemption, Porridge, The Italian Job, Chicago and - dare one suggest it? - Bad Girls.
The wing is ruled not by Angela and her cronies, lover Andy (Robert Whitelock) and idealistic new boy David (Kobna Holdbrook-Smith), but the dangerously quiet, heavily-muscled Saul.
Jimmy Akingbola plays a Godfather figure having a bit of a struggle as result of the recession. With the assistance of his lively and often very funny sidekick Abhin Galeya's Riz, this hard nut distributes favours, drugs and even rents out mobile phones. He also delivers his own brand of justice, which is anything but.
The one man that he leaves to his own devices is Errol, who after eight years has become a kind of institution. He has his own problems, first with Chandra (Jaye Griffiths), a woman whom he can neither love nor leave, and then her son young Rio, an unconvicted rapist whose brand of toughness is little league in this company.
In theory prisons like this one, ironically dubbed as the Thamesgate Hilton, should only be used for remand custody i.e. for just a few weeks at the time. In fact, some prisoners apparently serve the whole of their sentences in such institutions, which is uncomfortable for all concerned. The consequence is frustration all round.
While Williams clearly sets out to entertain and, with the assistance of director Paulette Randall and a talented nine-strong cast, does so, one suspects that he is more interested in delivering some harsh messages about drugs, racism and overcrowding in prisons today.
By the end, Category B has pretty much everything: sex, crime, death and some rich comedy. It may all be a bit melodramatic, but this play will pack in audiences and whet the appetite for its companions, written by Kwame Kwei-Armah and Bola Agbaje, in what should be a very exciting autumn season at the Tricycle.
Playing until 19 December
Reviewer: Philip Fisher