A Cavalier for Milady
Tennessee Williams
Cock Tavern Theatre, Kilburn
(2011)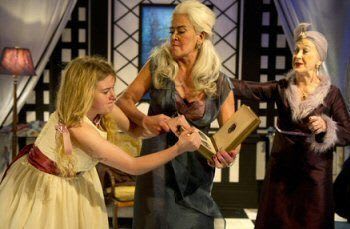 The Cock Tavern Theatre's second world premiere celebrating Tennessee Williams' centenary is a slimmer piece than last month's I Never Get Dressed Till After Dark on Sundays.
To the extent that A Cavalier for Milady has a point, Williams is attempting to make his audience accept the premise that the line between certifiable madness and acceptable hijinks is wafer thin. We may not necessarily agree.
The drama takes place in a swish Manhattan apartment, wittily designed by Cherry Truluck using a mishmash of styles. This roost is ruled by a sixtysomething Mother desperate to regain her lost youth, played by Janet Prince. She and her pal Ada (Lucinda Curtis) spent every night on the razzle, chasing after paid escorts.
While they are out, the women leave behind daughter Nance who might dress like Alice in Wonderland but is an adult. However, Caitlin Thorburn's character struggles to remain within reality, not only reading about and imagining the legendary ballet dancer Vaslav Nijinsky but literally conjuring him up in untouchable but too, too solid flesh.
The handsome dancer, designating in the programme as "An Apparition of Vaslav Nijinsky", that she gets is played by Sam Marks in full faun regalia. That is convenient since, when he is not bemoaning aspects of his sad life or letting his ego run riot, the apparition provides brief excerpts from Debussy's finest.
Comedy is injected by an Irish not-babysitter, Gillian Hanna's wonderfully named Mrs Josie Flattery who makes prurient disapproval into an art form under Gene David Kirk's direction.
While A Cavalier for Milady is a good way from Williams at his best, its depiction of Nance will have resonance for his fans. They will instantly bring to mind a number of other daughter figures with a tendency to stare longingly into space, with the closest possibly being Laura from The Glass Menagerie.
Reviewer: Philip Fisher