Cedar Lake Contemporary Ballet Triple Bill: Indigo Rose / Ten Duets on a Theme of Rescue / Necessity, Again
Choreography by Jiří Kylián, Crystal Pite, Jo Strømgren
Cedar Lake Contemporary Ballet
Sadler's Wells
–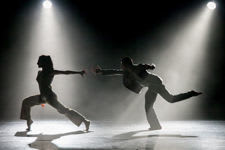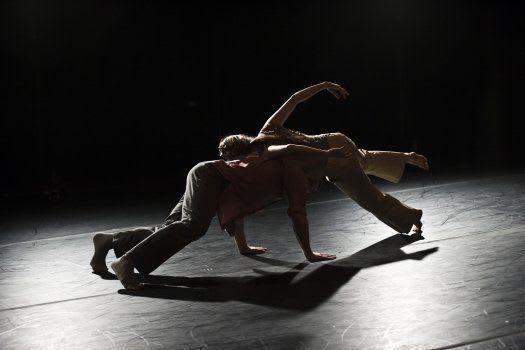 A year ago Cedar Lake Contemporary Ballet came and conquered Sadler's Wells. Here they are again, given a warm welcome from a packed receptive auditorium, with a new triple bill, all three UK premières. Interim artistic director, Alexandra Damiani, continues in Benoit-Swan Pouffer's steps, fusing European style with American youthful dynamism and panache.
Tonight's programme (sadly there are only two shows in London, but they are touring the UK throughout October) is again a carefully considered mix: Indigo Rose, created fifteen years ago for NDT2 by Jiří Kylián; Ten Duets on a Theme of Rescue (2008) by Canadian choreographer Crystal Pite, and Necessity, Again (2012) by the multi-talented Norwegian Jo Strømgren, set to a selection of songs by Charles Aznavour and text by Jacques Derrida.
Their repertoire is growing. Only ten years in existence, the sixteen-strong company already has the choreography of Alexander Ekman, Crystal Pite, Hofesh Shechter, Jo Strømgren, Andonis Foniadakis, Sidi Larbi Cherkaoui, Ohad Naharin and Jiří Kylián under its belt.
The first half-hour piece, Indigo Rose, is in four movements to an eclectic choice of music, moving elegantly from Robert Astley's Factory Reset to Couperin, from John Cage to Bach, mood and tempo shifting: structure and form, control and poise, fleet and frisky, a veritable showcase for the dancers' range.
Liquid gold—fluid and fast, amusing, solemn, formal—nimble athletic colour-coded boys, shadow boxing, bobbing and weaving, ducking and diving; couples in cool embrace; and a vast silk sail dissecting the stage for perspective shadow play. The rippling sail creates an illusion of grande vitesse, and momentarily the Ballets Russes, Nijinsky, and the French Riviera come to mind.
The clue to the potential narrative of Ten Duets on a Theme of Rescue is in the music—a selection from the soundtrack to the film Solaris. Five characters, three men and two women, alone on a bleak dusky set surrounded by fog lights, each standard light a silent sentinel robot.
Anxiety… despair… fear… Trapped in the shadows, the internal becomes external, the mind and body contorting to find ways of escape. In an indifferent desolate universe who is there to cling to but the next person. Convulsive dance, inventive contact work, fertile imagination, dancer supporting dancer in a chain of holds and twists, variations on the theme.
Jo Strømgren's warm, creamy Necessity, Again rescues us from the chilling sorbet that is Ten Duets on a Theme of Rescue. Put away serious study, let your hair down, take your clothes off, give in to your senses, push dry intellect aside and fall in love.
Strømgren, who is also a playwright, theatre and film director, brings a cheeky theatrical exuberance to his juxtaposition of Derrida's words and Aznavour's songs, the dry intellectual versus the prolific singer of romantic chansons, the rational versus the emotional, head versus the heart. The heart wins every time in its hope for love.
Washing lines pinned with sheets of paper strung across the stage, boxes of paper thrown in the air, girls in cotton frocks, beaux in suits that come off quickly of necessity, Necessity, Again could be a French musical film from the fifties.
Five young couples couple, intermingle and cavort. Splitting up and making up, the course of love is never smooth, but the body's urge for sex is primal—necessity again and again. Thunder rattles; the wind blows; and Aznavour's songs of lost love and sad souvenirs keep on coming and coming.
Sex on a table, thrumming passion, frivolous and free, serious and needy, undies and hot dance till the riotous rite comes to an end with a girl dressed in sheets of paper being tossed into the air. A skipping rope is made of the washing lines—skipping pages of notes, jumping old love letters. What else can you do—isn't this philosophy, too?
Dry text and bittersweet song, both have a narrative, but it is always the music that makes the heart and body soar. And soar is what the Cedar Lake dancers do, making us fall in love with them all over again.
Reviewer: Vera Liber