Chains
Elizabeth Baker
Orange Tree, Richmond
(2007)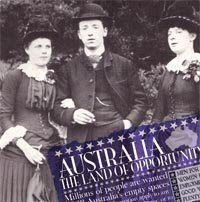 The latest in the Orange Tree's season of revivals of plays by women is set just up the road from the theatre in Pooterish West London. Like the Grossmiths' anti-hero, these lower middle class folk aspire to nothing more than becoming head clerk (male) or keep a nice home for a head clerk (female) and otherwise make the best of their lot.
Three of the four acts take place in the period living room of the Wilsons, which has been realistically designed by Sam Dowson, who also gets the period dress spot on. Justin Avoth as Charley Wilson is happily married to Lily, a practical woman played by stage debutante Amy Noble, who looks very much like a younger Prunella Scales and shows great ability.
Their domestic bliss is thrown into disarray when their lodger, Fred Tenant (Ashley George), announces that he has chucked up his job to give up a budding, if dull, career and take his chances in the colonies, in this case Australia.
This forces everyone in the Wilsons' social circle to take sides. Is the young emigrant a visionary or a madman? It also throws up questions of duty versus adventure and, in passing, allows Octavia Walters playing Lily's sister Maggie to offer some mildly feminist observations. This is far from fortunate for her admirer, the generous widower Walter who is devoted to a woman who has no intention of reciprocating.
The main focus is on Charley himself. This handsome man is tortured by the daily grind and when he once discovers that even his lodger can start a new life on the other side of the world, he gets a wanderlust that seemingly cannot be stilled.
Despite observing marital bliss in his parents-in-law's home and the prospect of it from a happy young couple in the first thrust of wooing, he cannot get the idea of a fresh start out of his mind.
What Fred can do and Charley may consider, poor trapped Maggie is restricted to dreaming of. She is a potent symbol of the woman's lot almost exactly 100 years ago and if nothing else, this play shows how much society has changed in that century.
The chains themselves could be those of the convicts who went to Australia under less favourable circumstances than Fred but are more likely to refer to those of a class that would like something more from life than daily drudgery; or a gender that could not escape society's strictures.
This latest discovery from the intrepid Orange Tree is a 2¼ play of most interest in portraying lower middle class life 100 years ago from a feminine perspective. It contains some interesting ideas and a clever late twist but suffers from an excess of dull chit-chat that sounds forced despite good performances from Auriol Smith's cast.
Reviewer: Philip Fisher