The Chairs
Eugène Ionesco, translated by Martin Crimp
Gate Theatre, Notting Hill
(2006)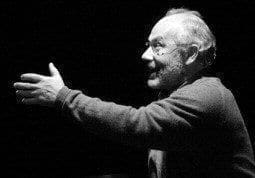 Since she took over as Artistic Director at the Gate, Thea Sharrock has not put a foot wrong as a director. As news comes that her brief stay is about to end, she signs off with another great success.
The Chairs is an Absurdist Comedy that has loose parallels with Waiting for Godot, although, arguably, its outlook is not quite as bleak.
Miss Sharrock is graced by two fine performers in Susan Brown playing the old woman affectionately known to her husband of three quarters of a century as Semiramis; and Nicholas Woodeson as the old man whom she cheekily calls Poppet.
He is a janitor who, according to his loving wife, has missed his vocation as a master of something-or-other but may just have had nothing special to offer the world.
His swansong is to be a lecture delivered by an orator on his behalf. The fun really starts as the guests begin to arrive. They are invisible and mute, which means that this talented pair of actors has to conjure them up for us.
They do so with the greatest wit so, as with James Stewart in the film version of Harvey, you could swear that you actually see, say, a Field Marshall molesting a young lady.
This builds first to the arrival of the Emperor, King of Kings and then, unlike Godot, the orator turns up to articulate the meaning of the old man's life.
Jeremy Herbert's black set is shaped like a horseshoe with half a dozen doors and these both allow the hosts to welcome visitors and, as each of them arrives, provide more and more chairs until there are enough to begin a bit of light-hearted slapstick.
This may sound absurd and meaningless and, like the protagonists' lives, to a large extent it is. It is also very funny and offers the chance to watch a beautifully judged production in a fine poetic translation delivered by two actors on top form.
Reviewer: Philip Fisher