Chalk Farm
Kieran Hurley and A.J. Taudevin
ThickSkin
Underbelly, Cowgate
–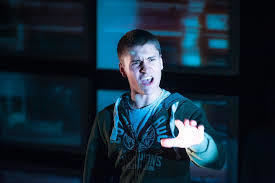 The August 2011 riots sent shockwaves through Britain. Two years on, this taut drama takes a fresh look, from the perspectives of a mother and son living in the heart of one outbreak, London's Chalk Farm.
Quite where Dad has gone remains uncertain but a strong bond exists between Maggie played by Julia Taudevin and 14-year-old Jamie, Thomas Dennis.
As the lad has grown up, the pair have become more distant, represented by Jamie's illicit trips to a rooftop vista across the whole of London, graphically represented on a bank of 15 TV screens.
When the trouble kicks off, Jamie claims to be with his best friend Junior, which is telling the truth but not the whole truth, since they are on the streets rather than safely in a flat.
The heart of the drama comes as Jamie conveys the thrill of the chase and the looting, while at the same time, his Mum talks about her fears, which prove to be well-founded.
The aftermath proves equally intriguing, after Maggie discovers a bottle of sparkling rosé and empty till drawer in her son's room.
Her actions and the response by the authorities make this a thought-provoking hour, helped by a pair of strong performances under the direction of Neil Bettles.
Reviewer: Philip Fisher