The Charity that began at Home
St. John Hankin
Orange Tree, Richmond
(2011)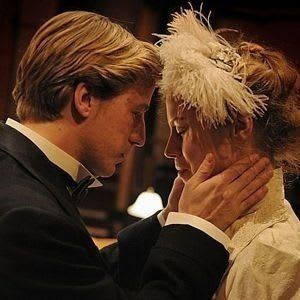 On New Year's Day, the Orange Tree will enter its fifth decade. Under Sam Walters, the little theatre's greatest asset is his ability to unearth long forgotten plays that would otherwise disappear forever.
The Charity that began at Home may not be the greatest play of an era that boasted Shaw and Wilde but it has hidden depths.
On the surface, it starts out in the manner of an unchallenging sitcom. Lady Denison and her daughter Margery, respectively played by Paula Stockbridge and Olivia Morgan, are irredeemably good.
Under the tutelage of Damien Matthews's Hylton, a plain clothes preacher with dubious credentials, they become a magnet for a selection of society's more eccentric waifs and strays.
In the early scenes, this conceit and the genteel parties that it leads to give numerous opportunities to laugh at the freaks who become house guests.
They are led by a comically boring General rendered perfectly by Philip York, well supported by a couple of fearsome females. Even Rebecca Saire as the hostess's judgmental sister-in-law fits the theme with ease.
However, the catalyst for much of the action is Hugh Verreker, a lazy former serviceman whose retirement may not have been as voluntary as he might lead people to believe.
Oliver Gomm's sleazy character swiftly works his way into kind-hearted Margery's affections, even provoking Mother to question whether altruism can be taken too far.
The end of the third act seems to tie up every loose end but in the last, the play changes course, as Verreker and Margery enter into a Shavian discussion that starts with their engagement and future life but soon moves on to weightier moral issues.
While the play's themes owe something to Molière's Tartuffe, Voltaire's Doctor Pangloss and any number of Shaw's talking shops, St. John Hankin distinguishes himself with the gentility of the debate and a very English sensibility.
Auriol Smith directs a strong cast in which recent RADA graduate Olivia Morgan really takes the eye. The writing can be a little flabby but the ideas explored are just as relevant a century on as they must have been when the play was first aired in 1906 only a few years before the decadence on show was dealt a death blow by the war to end all wars.
Very best wishes to all at the ever-friendly Orange Tree and here's to the next ten years.
Reviewer: Philip Fisher