The Cheeky Chappie
By Dave Simpson
Union Theatre, Southwark
(2004)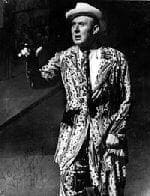 Dave Simpson's candid study of variety star Max Miller, The Cheeky Chappie, currently at The Union Theatre, Southwark, raises the spectre of Pagliacci topping the bill.
This two-hour romp down memory lane is notable for a near-heroic performance as Miller by Jamie Kenna, who wasn't born when Miller was strutting his stuff at the Hackney Empire
No actor, with the possible exception of the born mimic Olivier himself, could hope to imitate rich comic genius of the strain to be found only rarely in the likes of Morecambe & Wise, Tommy Cooper and Ken Dodd. But Kenna deserves all his applause for this attempt.
Through Simpson's thoughtful script, Kenna reaches into the hidden recesses of Miller's private life and the murky waters of his evidently less than joyous marriage to Kathleen Marsh, here played with style by Jo Price. It's a measure of the quality of this probing that it quite knocks the stuffing out of the gaiety that might have been a simple recapitulation of Miller's variety career.
Doubtless Simpson never intended to give us a sentimental night at the halls, though his preoccupation with life behind the mask of comedy means we lose sight of the real stature of Miller's variety persona. We see him emerge from Army concert parties to command the bills as German V1s rumble over London. We may not appreciate that the concert parties were in India and that Miller made his first film in 1932 and his first Royal Variety appearance in 1937.
We do see the ordinariness of the off-stage life of a star, his conventional search for alternative companionship when first love fades. Sioned Jones gives an unselfish performance as the devoted Ann Graham. There's also a vitality about the musical direction of Philip Shute, whose piano is aided in performance by Dave Brown's double bass.
While the less than glamorous aspects of The Cheeky Chappie are well served by the small, crumbling space of the Union Theatre, the same cannot, of course, be said for the glittering years of his triumphs. Perhaps there's too much of Priestley's Good Companions melancholy about this show!
Yet Andrew Lyndford's production does offer an unusual opportunity. A chance to savour the mischievous fun of a star who delighted our parents in days before central heating and television when times, as they said "was 'ard" and we needed a good laugh.
Max Miller was certainly a good laugh!
"The Cheeky Chappie" runs at The Union Theatre until 16th October
Reviewer: Kevin Catchpole