Chekhov in Hell
Dan Rebellato
Drum Theatre Plymouth production
Soho Theatre
(2011)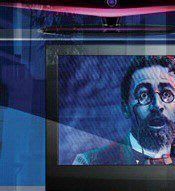 There is a long tradition of time travelling in the written and performing arts. Everybody from Mark Twain's Connecticut Yankee in King Arthur's Court to Doctor Who has tried it in one direction, the other or both.
Now, Dan Rebellato allows us to imagine what would have happened had Anton Chekhov not died in 1904 but instead entered a century long coma and awoken on the far side of Europe in 21st-century London.
After a touching and surprisingly convincing deathbed scene spoken in Russian and German without titles, the setting is stripped away. Almost instantly, the dead man is in a National Health Service hospital where the needs of the primary care trust become far more significant than those of any single patient, even one who after resurrection speaks no English and is 150 years old
Playing the doctor/writer Simon Scardifield looks the part, especially after he dons the pince-nez, and puts on a suitably nasal Russian accent throughout the 90 minutes of his terrifying picaresque journey, that has much in common with David Mamet's Edmond.
The early scenes are effective, as Chekhov's multiply great-niece, the pick of the actors Ruth Everett as foul-mouthed, single mother Nicola, at first tries to disown her old uncle then gradually warms to him ("he's got nice eyes").
Chekhov becomes the archetypal innocent in a strange and wicked world, learning the language and observing in a typically detached way all of the changes that have taken place since his apparent demise.
There are a number of different storylines that recur along with many single incidents designed to show us how unpleasant contemporary London can be.
The police community officer appointed to provide support to Nicola is almost sickeningly helpful, knowing every comforting phrase but never really sounding as if she believes them. At the other end of the scale, a gun-toting Russian gangster is only too happy to help out a suffering fellow national. If nothing else, this makes a change from his normal job of trafficking young women from Eastern Europe to the kind of nightclubs that provide a meagre cover for the prostitution rackets that bring in the big money.
Somehow, despite clothes that would not have looked out of place on Doctor Who, a light suit and bow tie to the fore, Chekhov manages to pop up all over the place, finding self-help groups as easily as pop stars' luxury homes. Eventually, this archetypal victim is involved in a police shoot-out, a far cry from the kind of scenes that he wrote for his own characters.
Dan Rebelatto has come up with a fascinating idea and receives good support from director Simon Stokes and the well-chosen ensemble cast who, apart from Scardifield, all play numerous parts.
The difficulty with Chekhov in Hell is that once you have got the hang of the initial idea, the humour and social commentary do not seem able to provide quite enough variety to fill an hour and a half. This amusing concept might well have been better written as a shorter play, possibly to accompany a stage adaptation of a Chekhov short story.
Reviewer: Philip Fisher