The Cherry Orchard
Anton Chekhov
Moscow Sovremennik Theatre
Noël Coward Theatre
(2011)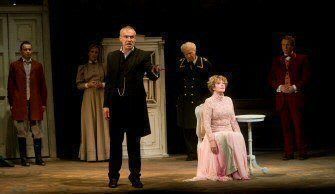 I guess I must be as fickle, feeble, and contrary as Chekhov's characters: much as I liked the Sovremennik Company's Three Sisters, I failed to fall for the vaudevillian charms of its Cherry Orchard. I wanted to like it, but jarring effects and mannered acting styles jangled my bi-polar bi-cultural receptivity.
I've often railed against the English appropriation and misinterpretation of Chekhov (no Russian 'soul'), but now I am hoist on my own petard. After last night's three-hour-long set-in-aspic 'Soviet' Cherry Orchard directed by Galina Volchek I do think we might just be beating the Russians at their own game. Need I mention Sam Mendes' productions or boast of Christopher Hampton's fresh but respectful versions of The Seagull and Three Sisters, or point at Tom Stoppard's impish finger on Chekhov's funny bones?
Well, it's all swings and roundabouts, which is exactly Chekhov's point. Time for a regime change, every dog has his day but must make way for the next. Time (as always), memory, and inevitable change are Chekhov's preoccupations.
And the Sovremennik Company do bring out forcefully how since the Emancipation of 1861 (the disaster that Firs talks about), which didn't really take effect till the 1880s, Russia's feudal system was finally being swept away at the turn of the century. Treated with his usual lightness of touch, Chekhov reveals a people in transition, a huge subject.
Inspired, apparently, by a visit to Stanislavsky's mother's estate, is The Cherry Orchard a gently mocking affectionate look at a class Chekhov wasn't born into? He spent his life squeezing the serf out of himself drop by drop, he said. A class traveller, he could look at them all with a dispassionate eye, but he knew on his own skin what Lopakhin was talking about.
Lopakhin's moment of triumph (followed by guilt) on purchasing the estate where his grandfather and father had been slaves not allowed even into the kitchen, is that transition point. Sergei Garmash, well-known screen and stage actor, is electrifying. Incidentally, you might like to check out Chekhov's short story, A Visit to Friends, for an insight into Lopakhin's inability to propose to Varya.
Soon the guilt will be gone and a new society will be born, no less stratified, this time politically not by accident of birth alone, which will be swept away in its turn by the hand of history. We see it now in the New Russians with their ostentatious wealth (so much bling in the audience - one might say paraphrasing Gogol - why are you laughing and applauding? you are laughing at yourselves).
A play for today, yet the production seems still marinated in the Soviet system of Honoured People's Artists, the privileged aristocracy of that era, with all that that entailed. When the actors walk out before the play starts and line up front of stage in frozen tableau for our homage, which they dutifully get from the Russians filling the auditorium, it is as if time has stood still, not Chekhovian but from the stagnant Brezhnev period.
A tradition honoured by applause throughout for 'turns' by the actors, as is accepted at the ballet. And turns there were plenty, unsubtle, even crudely slapstick at times, making for an uneven production.
Granted Chekhov did say he was writing a comedy bordering on farce, which Stanislavsky saw as a tragedy (he would, he was of the landed gentry class), but Chekhov's plays were/are as ambiguous, as paradoxical, as the human condition. The problem for a director is how to get the balance right.
Olga Drozdova's grimacing deranged Sharlotta is a pop-eyed music hall act, and Yasha, the young valet, is played, curiously, by Valery Shalnykh (in yellow suit and lime-green waistcoat) who looks old enough to be his grandfather, so that his dallying with a farcical Dunyasha (Darya Frolova) could be misconstrued. Talk about love being blind. And Marina Neyolova's Ranevskaya is a grandstanding actress in designer gowns (an Arkadina) - very much the grande dame - without a sincere bone in her body, totally self-absorbed.
Usually one feels some pity for the bankrupt (in every way) landed gentry, so cosseted that they are infantilised and incapable of dealing with the new middle class that has arisen from amongst their former serfs, but here one feels revulsion or at least indifference for the fate of these spoilt brats. Sweep them away neither use nor ornament.
The ones that seem real are Trofimov (Alexander Khovansky), who convinces Anya that all of Russia is an orchard, Varya (played undemonstratively but effectively by Elena Yakovleva), and the 75-year-old famous graduate of the Moscow Arts Theatre's School-Studio, Valentin Gaft, playing the 87-year-old Firs.
The set, constrained by the Noel Coward Theatre's space, was constricting: two large paper trees, with fluffy cloud formation tops, the white elephants in the house, and a central door that distracted with its precarious instability.
But not as constricting as the old-fashioned stale stays of Volchek's production. In London we have been fortunate to experience Lev Dodin's Maly Drama Theatre from St Petersburg - Uncle Vanya in 2005 - but then St Petersburg is not Moscow, where innovation, one gathers, moves at a slower pace.
Stanislavsky said the play was a delicate flower, it must be treated carefully or else its odour will vanish .
Reviewer: Vera Liber