Chess
Music by Benny Andersson and Björn Ulvæus, lyrics by Tim Rice, book by Richard Nelson
Michael Linnit and Michael Grade with English National Opera
London Coliseum
–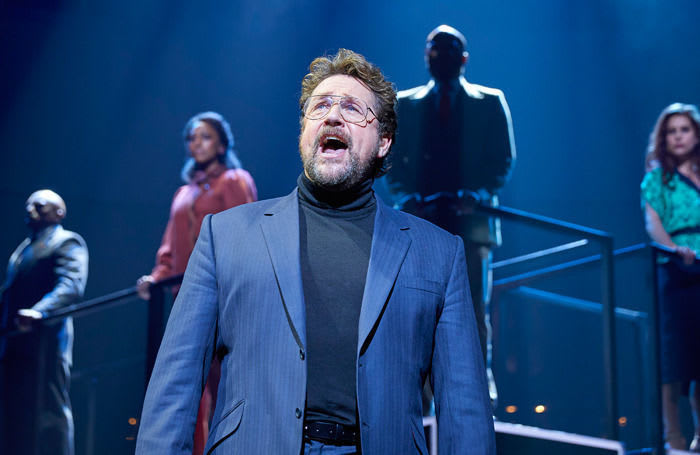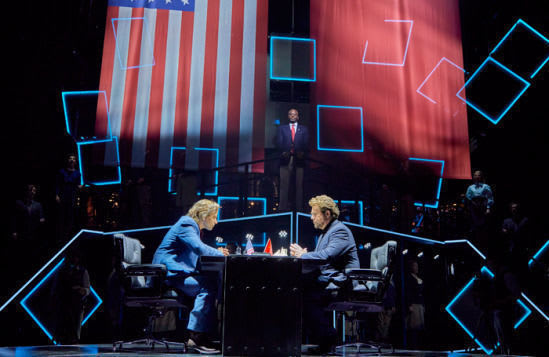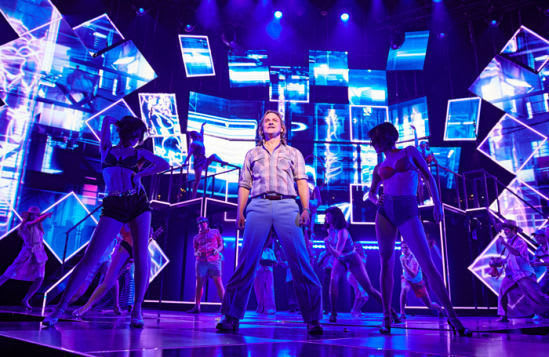 Like a game of Chess, this musical, which combined the talents of Sir Tim Rice and Abba's composing duo, has moments of great excitement but also its fair share of longueurs.
Over three decades after its West End debut, the show returns in an operatic venue with rock concert presentation, a combination that can make for a degree of artistic incongruity.
On entry, visitors will immediately recognise the scale of this latest Coliseum cross-over musical production. Designer Matt Kinley's vision means that the stage space is filled with black squares, ripe for illumination, while conductor John Rigby and his orchestra precariously float in mid-air, very much in the heart of the action.
The plotting is as formulaic and unthinking as a well-tried chess opening. In act I, an American grandmaster with a rock star's clothing and attitude takes on a Russian automaton in Italy c.1981. The combatants' prize is not only supremacy on the board but also a deeper metaphorical victory for the culture that their respective countries represent.
The contrast between the men and their backgrounds is brought out in the music too, where Tim Howar's Freddy Trumper (based on Bobby Fischer and probably named after cricketer Victor rather than the current US President) gets to sing power ballads, while Michael Ball in the role of bear-like Anatoly (the Victor Korchnoi character) is encumbered with a martial beat under every song he sings.
Following the Russian's victory, he leaves behind a wife played by Alexandra Burke and young son to defect to England along with his opponent's sexy Hungarian second, Cassidy Janson playing Florence, a role originated by Elaine Paige, who relishes the first half's strongest song, "Heaven Help My Heart".
A year on after the interval in a 2¾-hour performance, Freddy has retired to reality TV-style journalism, leaving Anatoly to take on a new, even more mechanical Russian in Bangkok, inspiration for the iconic song "One Night in Bangkok". The chess now gets spiced up by the kind of Eastern machinations now (allegedly) more commonly used to rig overseas elections and referenda before an emotional victory leads to an even more emotional human interest story and the moving duo between the two leading ladies, "I Know Him so Well".
Although the evening's psychology never gets beneath any surface and the chess scenes do not try too hard for realism, Lawrence Connor's production makes the most of a big budget. Not only is the heavily-miked music orchestrated to benefit ENO's orchestra and chorus but there are big rock concert screens on either side of the suspended orchestra to project the key performers as well as some great graphics courtesy of video designer Terry Scruby. Stephen Mear's choreography also has spectacular moments and tests out the gymnastic skills of his energetic ensemble to the full.
Chess may not be an intellectual masterpiece but it is dramatic and the best of the music unforgettable. With great visuals and Michael Ball on top form, especially in the first act finale "Anthem", well supported by Cassidy Janson and the rest of the cast, this limited run should prove popular.
Reviewer: Philip Fisher