Martha, Josie and the Chinese Elvis
Charlotte Jones
Salisbury Playhouse
(2006)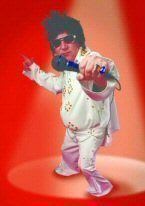 Charlotte Jones's most successful play is Humble Boy which enjoyed a considerable London run featuring Simon Russel Beale.
Whether her latest play, Martha, Josie and the Chinese Elvis, a commission for Bolton Octagon, will make such progress seems unlikely.
For a start, its characters are unashamedly troubled. One, Martha, suffers with obsessive compulsive disorder, Brenda Marie has learning difficulties, shattering her dream of a skating career, while her mother is revealed as a prostitute. Lionel is entirely normal- but for an urge to wear women's clothes.
Into this unlikely ménage comes Timothy Wong, an Elvis Presley impersonator.
Quite a mix and, while it is no secret that Elvis impersonators are everywhere, there is a problem here in that Jones appears to have found it well-nigh impossible to obtain performing rights for any of the great singer's important hits.
No criticism of the player, author or director Chris Garner. But this dealt a shattering blow to the vocal performance of Yo Santhaveesuk as Elvis. The young man is clearly not without musical talent but, needless to say, his inability to let rip with Hound Dog or even Blue Suede Shoes tends to put a dampener on the proceedings.
One has only to recall the enthusiastic Palladium stir at the equivalent performance in Joseph to know what a good impersonation can do!
Then there is the inhibiting factor of laughter at the expense of suffering. Writers, as notably in the case of One Flew Over the Cuckoo's Nest, do get away with this sort of thing and, in the process, even add to popular understanding of the lives of handicapped folk. There was, after all, Mrs Doyle in Father Ted – though I am not sure just what particular compulsive disorder was hers, if not tea-making.
Neither am I convinced that Martha, Josie and the Chinese Elvis falls into either category as great entertainment or social instructor.
Ironically, and I'm assured that the bookings were coincidental, the adjoining City Hall was the same week staging a nostalgia evening featuring Gerry and the Pacemakers, Wayne Fontana and P.J. Proby – this time no imitations but the originals. And if that were not enough, one has only to turn on to ITV these days to catch a few bars of The Beach Boys in I Get Around!
"Martha, Josie and the Chinese Elvis" continues at the Playhouse until Saturday 25 March.
Reviewer: Kevin Catchpole