Chinglish
David Henry Hwang
Tim Johanson Productions in association with Julie Clare Productions, Arion Productions and Park Theatre
Park Theatre
–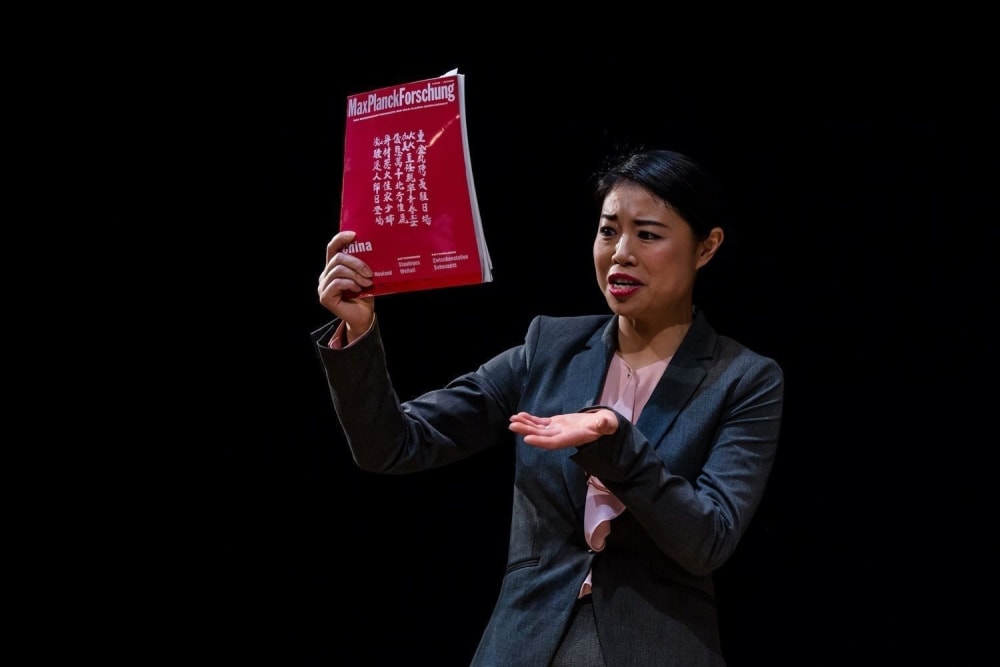 There is something strangely genuine and comically truthful about the European première of David Henry Hwang's play Chinglish at Park Theatre.
Originally staged in USA in 2011, it received much acclaim then. David Henry Hwang, the most prominent American-Chinese playwright, is a master of merging reality with illusion and over several decades has explored themes of immigration, identity and race. However, this play is seemingly more rooted in reality and comedic effect and Hwang's focus is turned directly to China perhaps in an attempt to explore his own relation with his parents' homeland.
Daniel (Gyuri Sarossy), an American businessman in a desperate need to revive his family-run business, tries his luck in China, in the city of Guiyang (the capital of Guizhou). Daniel wants to win a contract from the local government to improve the English translation of public signage in China. Initially helped by English teacher-turned-business-consultant Peter (Duncan Harte), Daniel finds and unlikely ally in the enigmatic vice-president. Along the way, he learns that making business in a country like China is not a straightforward matter.
Andrew Keates's direction exploits the humour that comes from language misunderstanding, mistranslation and cultural differences. Language is in fact the elephant in the room, the metaphor for a society that strives on communication but cares little about understanding.
In the first act, before the interval, there are plenty of farcical moments and most of the characters are farcical portrayals and stereotypically so. Nonetheless, the bravura of a fully-conceived bilingual production with some characters speaking only in Chinese, some a bit of both, is not to be overlooked.
Actors like Duncan Harte, playing Peter, a Soas graduate who can speak Chinese on stage, are not easy to come by and he does a pretty good job at it while also giving an even and energizing performance. Candy Ma, originally from China, is also very believable as the vice-president in her interactions with her broken English.
As the first act comes to a close, the audience is presented with a very vivid picture of the relationships between characters. But it is in the shorter second act that more layers are presented as cultural differences hide further intrigues and also a whole different lot of moral values.
The production is effective in leaving all the revelation to a shorter second act after the interval where a potentially darker reality is presented, one that confirms an imaginary version of China as the threating and enigmatic super-power that is moving forward.
There is much to be praised in Andrew Keates's production: the minimalist set with a functional cupboard that opens with a bed, becomes a restaurant counter and changes according to scene is rather ingenious. It is a highly entertaining piece of theatre that works well even though much of it is surtitled. Lobo Chan is charming in his role of a local official and his physicality and facial expressions manage to get across his humour even if he only talks in Chinese.
Whether Chinglish is one of Hwang's best plays, however, can be questioned. Is a portrayal of a slightly backward and linguistically inept China still the only way of presenting it on stage? Or is Hwang passing a comment also on the American counterpart with baggage of broken dreams? It is difficult to say with this production that, despite all its merit, still exploits the humour of cultural stereotypes.
In the end, for anyone who has tried to make business in China, some of the situations and misunderstandings will ring true and might not help but chuckle.
Reviewer: Mary Mazzilli