Choir Boy
Tarell Alvin McCraney
Royal Court and Manhattan Theatre Club
Royal Court Theatre Upstairs
–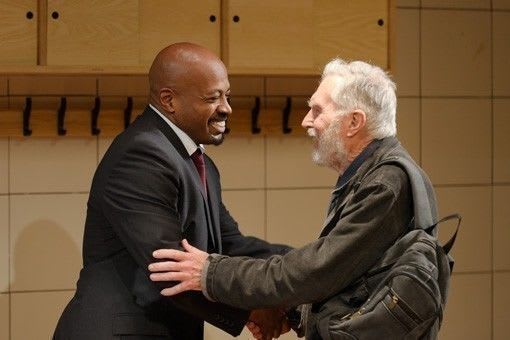 Dominic Cooke has lavished a great deal of care on this co-production with Manhattan Theatre Club, where it will be seen next year.
In doing so, he ensures that a very inexperienced cast (one of whom, Aron Julius, is currently doing his A Levels) come through with flying colours.
Choir Boy is set in an impeccably recreated (by Ultz) wood-lined, upmarket prep school somewhere in the United States. This is "all boy, all black" but suffers from many of the issues that have graced boys' literature on page, stage and screen for generations. Indeed, the Charles R Drew Prep School for Boys rigid code of honour could have been borrowed straight from Tom Brown's Schooldays.
The audience watches the dramas unfolding in traverse and could easily imagine itself at an annual event in the school's hall, punctuated by visits to classrooms, studies, bedrooms and the showers.
The central figure is prissy Pharus, well played by Dominic Smith. He is a class swot who is supported by a scholarship and a great deal of self-belief. It takes seconds to realise that he is gay but the full 110 minutes to understand the consequences.
Pharus is a clever manipulator who is a master at getting his own way. He works on Gary McDonald as the Head to run the school's choir in its golden jubilee year and also expects to sing the big solo at graduation.
This kind of behaviour is never likely to endear one to classmates and the least malleable is Head Marrow's belligerent nephew, Eric Kofi Abrefa as Bobby, who is a rival for the big sing.
While the boys' tensions are well realised and suggest a strong element of autobiography, the play only really takes off with the arrival of the excellent David Burke playing rambling, shambling old Mr Pendleton. This senior citizen drafted in from retirement to give the boys a course in creative thinking is a man who marched and sat in with Dr King.
He is an inspirational teacher in the mould of Hector from The History Boys or Robin Williams in Dead Poets' Society.
McCraney sure-footedly leads us to the conclusion that he has been striving for but, with his ability to write really perceptive lines about race, privilege and sexuality gives much food for thought in material that covers little new ground but is still well worth a viewing.
While the play itself is the main reason to spend an evening at the Royal Court, as a bonus the spirituals sung beautifully by the five younger cast members will stay pleasantly in the mind for some considerable time after leaving the theatre.
Reviewer: Philip Fisher