Chotto Desh

Akram Khan Company
The Lowry
–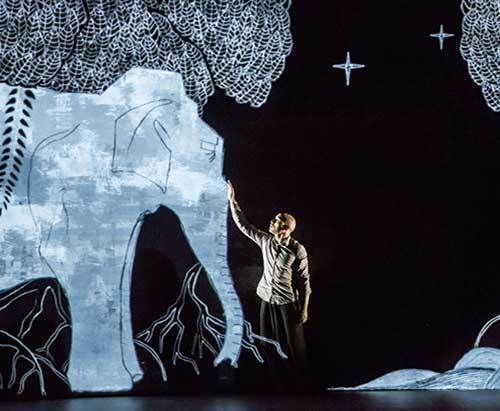 As part of The Lowry's inaugural Week 53 festival, award-winning choreographer Akram Khan reworks his acclaimed 2012 solo piece Desh for a family audience. The result, Chotto Desh (meaning 'small homeland'), is a charming, witty and dynamic one-man show that explores Khan's childhood and origins.
It begins with performer Dennis Alamanos, mobile 'phone to ear, calling a help centre to get his 'phone unlocked. This unconventional opening could be mundane in ordinary hands, but it is livened up both by Alamanos's energetic gesturing and by triggering the flashbacks that form the bulk of the show.
Beginning as a small, fidgety child and progressing to a restless teenager, Khan is portrayed interacting with the audio-recorded voices of his parents. As they scold and cajole, he insists on following his dreams to become a dancer—an overarching moral message that is so important for any child to hear, particularly those interested in the arts.
This narrative doesn't dictate the whole performance, however. Between these acted scenes, there are lengthy sections of solo dance that don't obviously develop the story—as such, they might prove uninteresting for some children.
Alamanos executes Chotto Desh's choreography—Khan's signature blend of contemporary and traditional Indian kathak—to perfection. He mimes the busy streets of Bangladesh with crisp, defined movements, pulls off crowd-pleasing acrobatics and embodies his character in entertaining detail. It's great to hear the younger audience members laughing as he impersonates Michael Jackson and clowns about on a giant white chair.
Guy Hoare's excellent lighting design creates atmosphere and contributes to the magical feel of the show, whether through shadow puppetry or by casting Alamanos's dancing silhouette onto the backdrop.
Two particularly impressive sequences are highlights of the show, combining movement, design and storytelling elements. First is the painted head sequence, in which Alamanos draws eyes and a mouth on top of his head. By bending forward to display the face, Alamanos creates a cartoon version of Khan's father, moving and gesturing with the recorded voice.
The second sequence incorporates stunning projection design by Tim Yip and Yeast Culture, depicting a fairytale told to Khan by his mother. In this story, a starving boy journeys into a mythical forest to get honey from its bees—Alamanos moves with the animated boy through an illustrated storybook landscape, sailing in a boat and climbing over tangled tree roots.
Its fusion of dance, music, comedy and magical effects make Chotto Desh a unique and memorable family show—and one that will hopefully inspire the next generation of dancers.
Reviewer: Georgina Wells