A Christmas Carol
Charles Dickens, adapted by Patrick Stewart
Albery Theatre
(2005)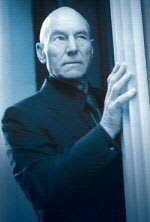 With their strong characterisation and incident-packed, often melodramatic plotting, Dickens's novels lend themselves to stage adaptation for solo performers.
Not too long ago Simon Callow put together a wonderful collation of Dickensian morsels much to the delight of West End theatregoers. Much further back, a gentleman by the name of Charles Dickens toured his own country and the United States reading to large audiences from his works and thereby getting rich.
Mr Stewart could well end up with a healthy financial reward as he is responsible for almost every aspect of this production, which is with us for a mere 23 performances he fills a programming gap at the Albery Theatre in the month leading up to Christmas.
He fills in as adaptor, actor, director, designer and eve, one imagines, as his own dresser! The only serious support that he gets is of the highest quality and this is provided by his lighting designer, Fred Allen, who turns a black stage with almost no props into an exciting playing space.
The star is a real acting phenomenon, having had many successful years as a stage actor with the RSC before becoming one of the most famous actors in the world, when he took on the role of Jean-Luc Picard in Star Trek - The Next Generation.
His talents just shines through in this beautifully judged adaptation of Dickens's most popular Christmas story - there are at least two other versions in the West End this year.
From the moment that he comes on stage, wearing a smart suit and open-necked shirt, making no concessions to the dress of Victorian times, he captivates his audience. It does no harm that he has a beautiful and rather musical speaking voice that is a pleasure to listen to.
For two hours, including interva,l the enthralled viewers are taken back in time by Dickens, that arch social reformist who used humour and pathos to point out the horror of poor people's lives.
Ebenezer Scrooge, the eventual hero is no more than a rather shy, rather mean but very ordinary man. It comes as a shock to learn that his devoted but impecunious clerk, Bob Cratchit worked through the year with only Christmas Day off, for a salary of fifteen shillings a week or 75p in modern parlance.
In this morality tale, the always relaxed Stewart takes us through four visitations that Scrooge receives on Christmas Eve, which between them change his life and those of others forever. First, his former partner Jacob Marley appears, looking scarily jaundiced, as a yellow spotlight picks out his face.
The other three, the ghosts of past, present and futur, take Scrooge through the ups and downs of an unhappy life and reach peaks of poignancy twice. First, he observes the paucity of the Cratchit family's Christmas table and the crippled Tiny Tim, at which point many will have shed a tear. Then, there is a chilling moment as Scrooge observes his own untended grave. Dickens really knew how to work an audience and so does his talented adaptor!
The whole performance is a joy but there are some real high points and the audience felt compelled to break into spontaneous applause as the solo actor entered the Fezziwig's ballroom and suddenly became a dozen dancers, tripping around from one to another like some dervish.
Patrick Stewart's version of A Christmas Carol has now been doing the rounds since 1988. It has had runs on Broadway and at the Old Vic, not to mention many charity performances. It is therefore no surprise that the performance is superlative, showcasing a great actor who can easily fill a large theatre by recreating numerous characters, without there even once being confusion as to who is being portrayed.
Go and see it. Yet again, Patrick Stewart is threatening that the current run may herald the final appearance for this version of Ebenezer Scrooge and all of his happy friends.
Running until Christmas Eve
Reviewer: Philip Fisher