Cinderella (La Cenerentola)
Gioacchino Rossini
Opera North
Leeds Grand Theatre
–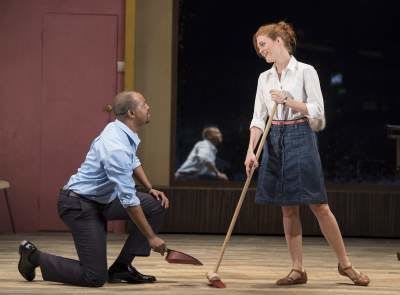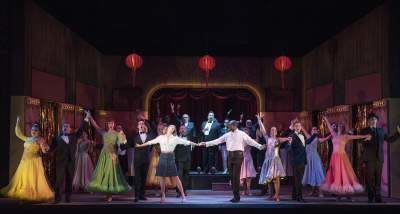 After the beguiling oddness of The Snow Maiden (1882) and the delightful black comedy of Hansel and Gretel (1893), Opera North rounds off its fairy-tale season with an exemplary production of Rossini's Cinderella (1817). Best known for The Barber of Seville (1816), which draws heavily upon the commedia dell'arte tradition, Rossini's retelling of this classic fairy-tale is similarly jovial and upbeat.
The beautiful and virtuous Angelina (Wallis Giunta) lives with her loathsome stepfather, Don Magnifico (Henry Waddington), and his two appalling daughters, Clorinda (Sky Ingram) and Tisbe (Amy J Payne). Forced into a life of drudgery—where she is given the cruel nickname 'Cenerentola' (Cinder-girl)—Angelina dreams of a brighter future where she is appreciated for her inner goodness.
Rossini dispenses with magic in his version of the Cinderella story. Instead of a fairy godmother, Angelina is assisted by the prince's trusted advisor, the philosopher Alidoro (John Savournin), who is charged with helping his master find a wife. Upon visiting Don Magnifico's household, Alidoro advises Prince Ramiro (Sunnyboy Dladla) to swap places with his trusted valet, Dandini (Quirijn de Lang), so that he can gain a better insight into what the three maidens are really like.
Despite her lowly position in the household, Angelina quickly wins the prince's heart, and the young lovers are later reunited at the palace ball where she discovers her suitor's true identity. Here, Rossini replaces the iconic glass slipper with a pair of matching bracelets.
Directed and choreographed by Aletta Collins, this effervescent production is profoundly good fun. The decision to re-imagine Don Alfonso as the proprietor of a down-at-heel dance school raises many laughs in the first half, particularly when the rotund baritone Henry Waddington attempts to display his flexibility at the ballet barre.
I was particularly impressed by Giles Cadle's set designs. Unlike his recent work on Hansel and Gretel, which relied heavily on clever video projection to create a series of different locations, the set for Cinderella effortlessly transforms from an ascetic dance school to a sumptuous royal palace. Cadle's designs are complemented by Gabrielle Dalton's arresting costumes, particularly the outlandish frocks worn by the two stepsisters.
Andrzej Goulding's striking video designs bring magic to the production, providing several of the evening's most memorable moments. In one poetic sequence, Angelina's romantic daydreams are projected onto a mirror while she sings.
Rossini's Cinderella offers ample opportunity for performers to demonstrate their musical and comedic chops, and the calibre of singing and acting in this production is exceptional. Canadian mezzo-soprano Wallis Giunta brings warmth and likeability to the central heroine, and demonstrates a superb coloratura voice. As Prince Ramiro, South African tenor Sunnyboy Dladla delivers some of the evening's finest singing, particularly in the aria "Si, ritrovarla io giuro".
The two leads are ably supported by some inspired comic performances. Henry Waddington—who stole the show in last season's production of Der Rosenkavalier—makes a delightful comic villain. Sky Ingram and Amy J Payne tear up the stage as Angelina's vulgar stepsisters, and Quirijin de Lang is tremendously good as Dandini, particularly when he impersonates the prince. The scene in which he seduces Clorinda and Tisbe, thus sending them into swooning fits, is one of the evening's many comic highlights.
I'd also like to praise John Savournin's performance as Alidoro. While the character may not be magical in nature, Savournin nevertheless imbues him with a strange and otherworldly quality.
I have no reservations about recommending Cinderella: it is a wonderfully entertaining production. After it finished, members of the audience practically floated out of the theatre.
Reviewer: James Ballands