Cinderella
Eric Potts
First Family Entertainment
Opera House, Manchester
–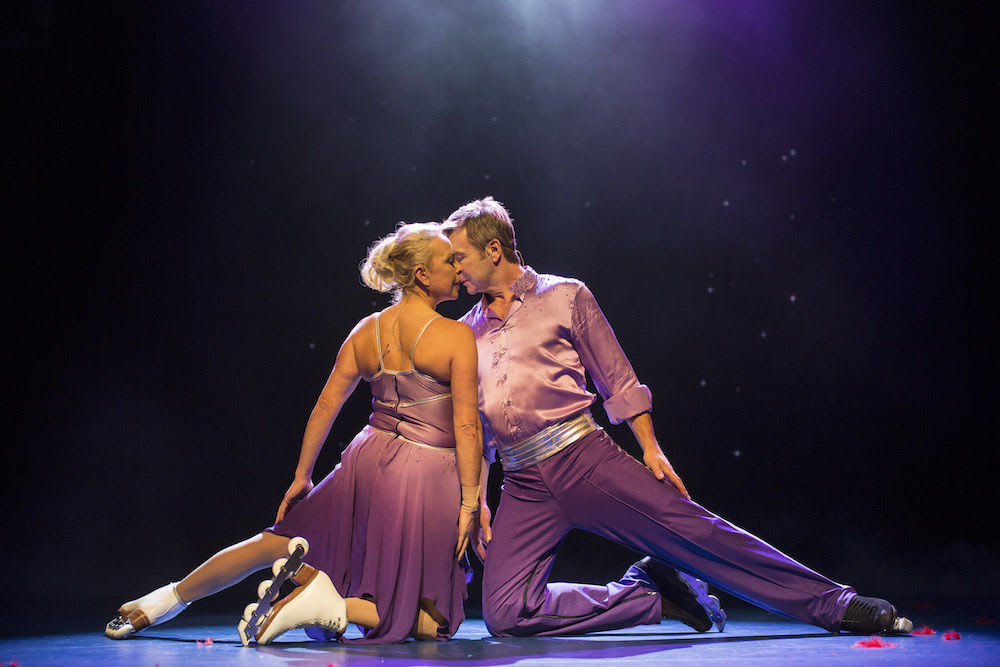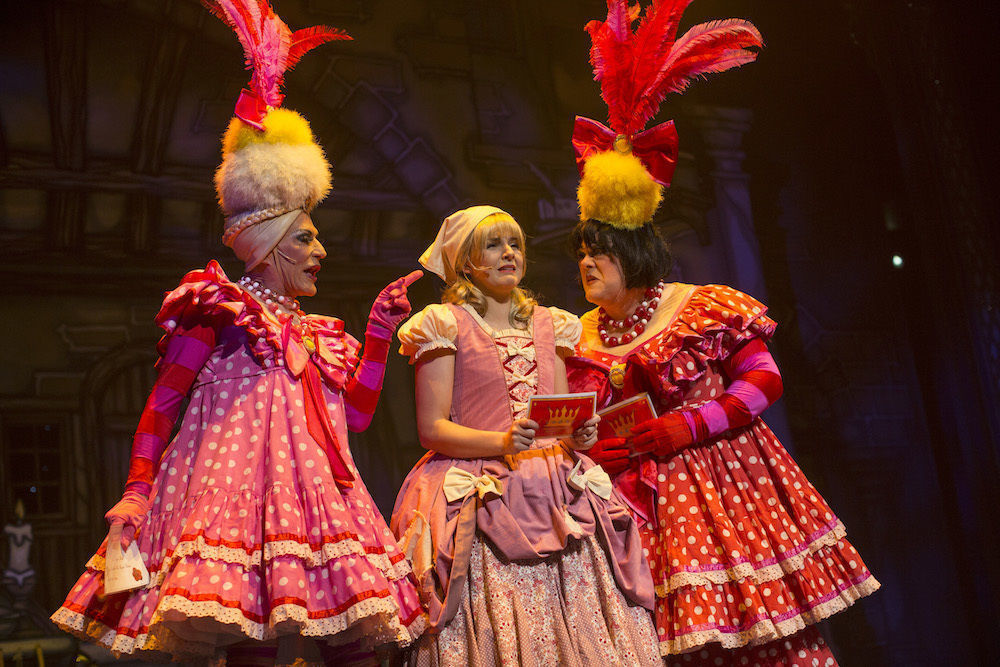 Just a couple of months after Mack and Mabel came to the Opera House, the couple who made that score familiar to millions are making their panto debut on the same stage.
In order to introduce a non-comic duo into Cinderella, Eric Potts has given the abused title character Fairy Godparents, King Crispin and Queen Juniper, with a sort-of Midsummer Night's Dream approach to invisible fairies who manipulate the lives of mortals—but in a nice way.
The skating fairies therefore get the opening number as a pure dance duo before the full chorus number opening, which looks a bit grafted on and doesn't quite have the same big impact. They're not particularly confidence at delivering the dialogue but get away with it. However, after teasing us with it a few times, of course they finish with a version of their most famous routine to Ravel's "Bolero", with added aerial work on silks, which is quite a spectacular replacement for the songsheet number.
It was a shame not to have Tam Ryan as comic after he has built up such a rapport with Opera House panto audiences—a Manchester Evening News story earlier in the year reported that he had been offered a reduced role and wages despite being the highlight of the last few Opera House pantos.
The comic performances this year struggle to cross the footlights to really engage the audience except on a few occasions. Andre Vincent does a decent enough job of comic role Buttons as do Dave Lynn and Tim Hudson as Ugly Sisters Rita and Cheryl, but it's all pretty run-of-the-mill stuff.
The real star, though, is Samuel Holmes as Dandini, who has visited Manchester in the best touring casts of Spamalot and now brings a touch of class and camp to the panto, at times apparently channeling Frankie Howerd. His comic timing and delivery is spot-on every time, and his rendition of the Bublé arrangement of "Feeling Good" while descending a staircase looked as much fun for him as it was for us.
Eloise Davies and Liam Doyle give very confident and mature performances as Cinderella and Prince Charming, delivering the romantic lines with total commitment and not a hint of irony. Anthony Houghton completes the fairly small principal cast as Baron Hardup (there is no stepmother) plus just eight chorus dancers and 12 juveniles in each performance. Oh, and a couple of Shetland ponies to pull Cinderella's carriage.
The 5-piece band—supplemented, I suspect, by some recorded music—does a decent job of reproducing the pop-based score, but the sound is very muddy and indistinct, as so often at the Opera House. Fortunately, most of the vocals manage to cut through the mud.
While not a particularly original take on this panto, there is plenty to keep the kids amused and the "Bolero" routine is worth waiting for and just about worth what has been lost to integrate the stars into the story.
Reviewer: David Chadderton