Cinderella
Christopher Wheeldon choreography, Sergei Prokofiev music and Craig Lucas libretto
English National Ballet
Palace Theatre, Manchester
–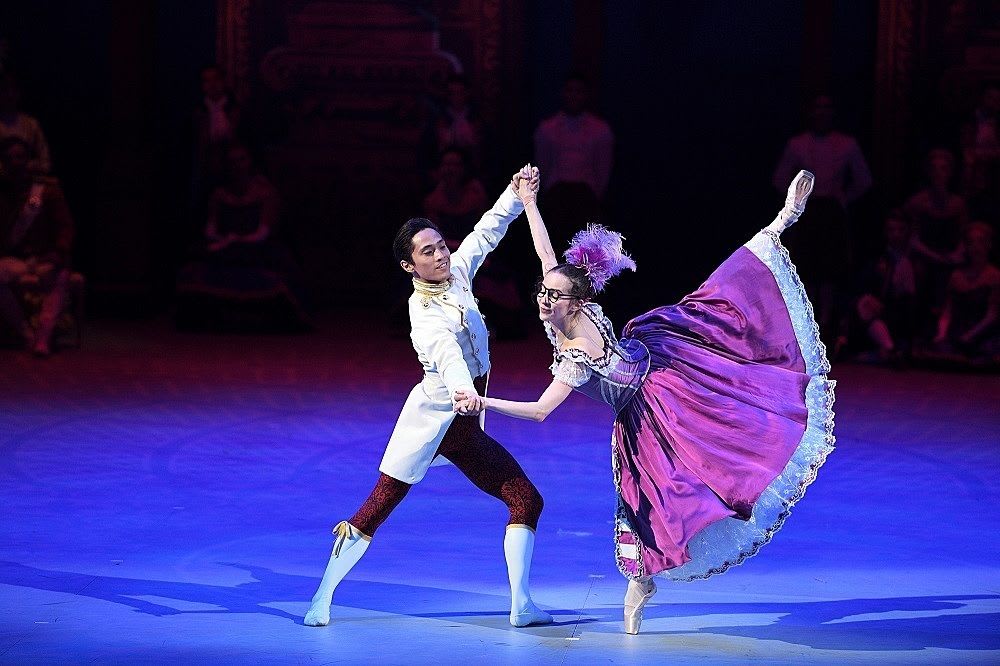 One wonders if English National Ballet were hoping to emulate the success of Matthew Bourne in expanding the popularity of ballet when commissioning their crowd-pleasing production of Cinderella. If so then mission accomplished as the ballet offers something to please everyone—ballet purists, those new to the genre, adults and children will all find something to enjoy.
Librettist Craig Lucas and choreographer Christopher Wheeldon do not adhere slavishly to the established storyline—there is no fairy Godmother and the stepsisters are far from ugly with the rather sweet Clementine (Katja Khaniukova) being led astray by her manipulative and bullying sister Edwina (Alison McWhinney). The mood is that of a dark myth from pagan times rather than a twee fairy story.
Cinderella (Erina Takahashi) loses her mother at a young age but gains four protective invisible guardians who watch over her. Cinderella makes an emotional connection to a beggar, to whom she has given charity, not realising that he is actually Prince Guillaume (Joseph Caley) in disguise. Denied the chance to attend the royal ball by her Stepmother (Tamara Rojo) Cinderella visits the grave of her mother and discovers pagan spirits of the forest are determined she shall go to the ball.
Choreographer Christopher Wheeldon takes a slow burn approach to the development of the story. Early scenes are restrained illustrating the long-standing nature of the 'bromance' between Guillaume and his best friend Benjamin (Jeffrey Cirio) and showing how even the saintly Cinderella can behave badly while mourning her mother. It takes some time to adjust to the approach; Jeffrey Cirio's charismatic performance and energetic dancing ensures Benjamin overshadows the prince to such an extent that, initially, you wonder if Cinderella has chosen the right bloke. However, in the second act, the restraint pays off as Joseph Caley's dancing becomes more expressive and exuberant suggesting that, until meeting Cinderella, the prince simply had no cause to dance and his discovery of love is apparent in a joyful release.
Tamara Rojo is clearly having a good time as the vulgar Stepmother: vomiting, spitting, literally stepping on beggars and swaying around the stage like a tipsy butterfly. Katja Khaniukova and Alison McWhinney face an unusual challenge as graceful dancers pretending to be clumsy for comic effect. Erina Takahashi is a charming Cinderella—diffidently blending into the background in the early scenes and taking centre stage only because she is unable to deny her attraction to the prince.
The ballet is spectacular but not always as one might expect. There are no massive sets or props. Members of the company form the coach that carries Cinderella to the ball, wearing horses' heads and spinning wheels, while Takahashi gleefully poses like a ship's figurehead with her cloak flowing behind.
Rather, spectacle arises from the incremental use of the full company. After scenes with only a limited number of performers, Cinderella's visit to the forest gives rise to a dozen dancers gradually filling the stage in a breathtaking display. As the ball begins, the full cast, in Julian Crouch's ravishing costumes, provide a stunning background for the courtship between Cinderella and the prince. The relatively few props are used to great effect. Basil Twist provides some endearingly eccentric puppets as the forest spirits—looking like mobile conker trees or hybrid birds / insects—which make little sense but add greatly to the dark fairy tale atmosphere.
Wheeldon leaves nothing to chance. There are even touches of bawdy humour with a busty parlour maid, Stepsister Edwina casually dismissing a pair of her lovers and Tamara Rojo's grotesque Stepmother. Surprisingly, the penultimate scene—the prince desperately trying to find who lost a slipper at the party—is played as comedy rather than drama. A bizarre game of musical chairs sees each of a decorative line of candidates rejected for obvious reasons (like having only one leg or being a supernatural creature) while others choose to refuse such low-class footwear.
English National Ballet offers a classy version of the well-known tale and the theme of sweetness gradually overcoming a dark mood provides a delicious treat and a happy ending.
Reviewer: David Cunningham