Cinderella
Andrew Ryan
Martin Dodd for UK Productions
Sunderland Empire
–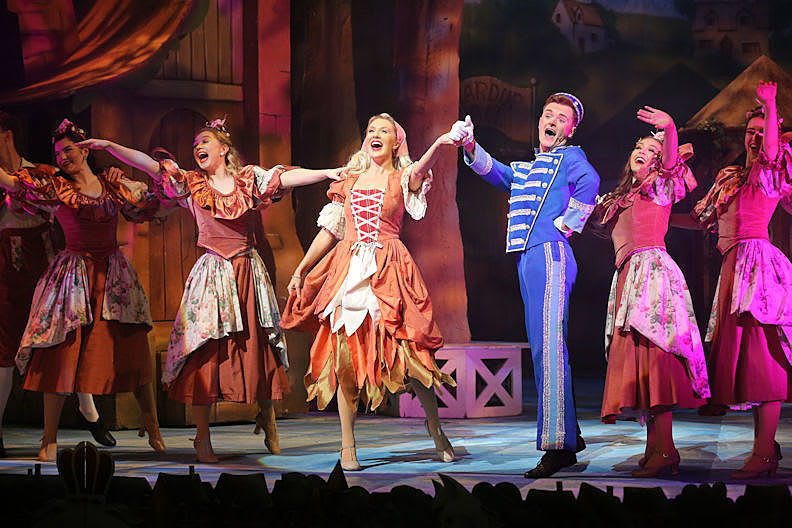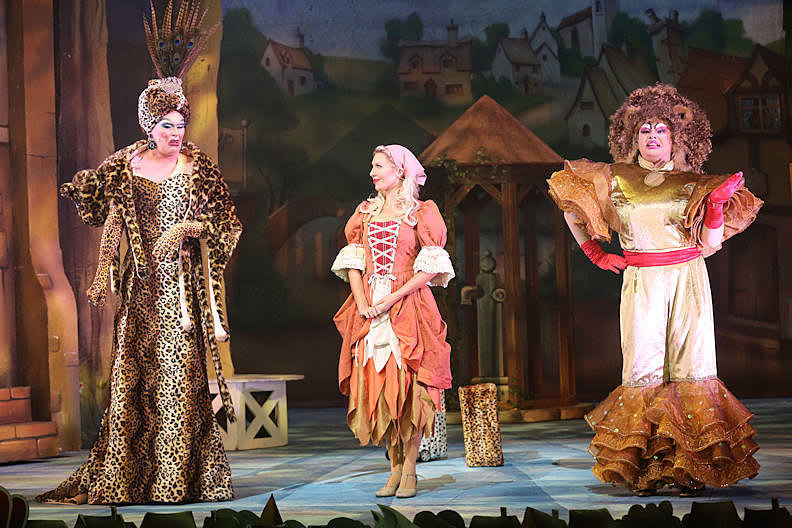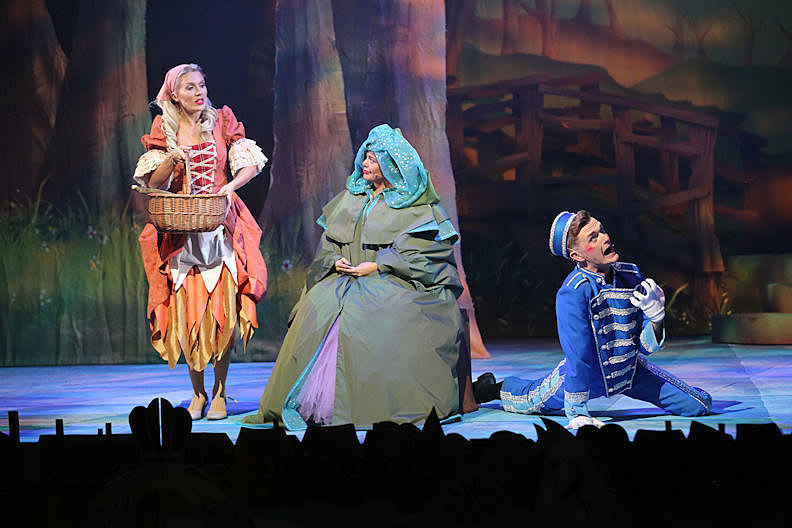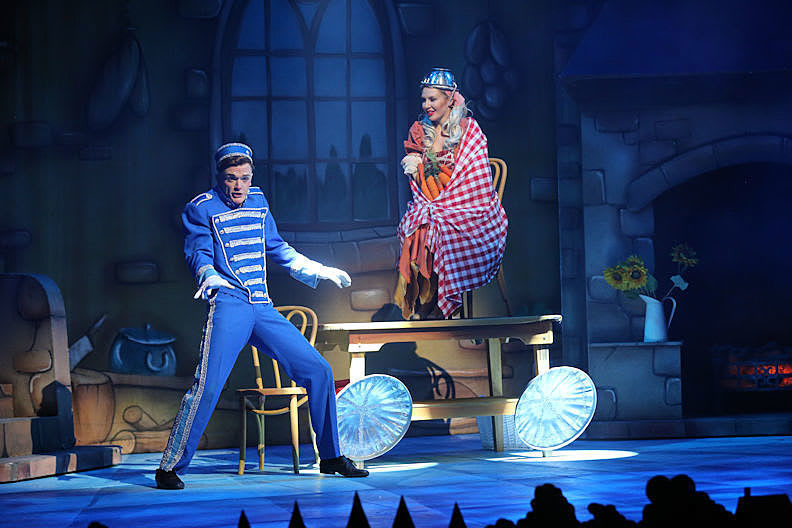 I have to say that, for me, this Cinderella is the best panto at the Empire for many years. It took me back to the panto glory days from the mid-sixties to the mid-seventies when Roy Todds, then the general manager of the theatre, produced and directed a series of productions which regularly outshone all the others in the region.
(I have to admit that I am prejudiced—I was the theatre's photographer from 1967 to 1982—but I was not alone in that belief. The Empire's was the panto everyone wanted to be in.)
So why is this one so good?
First it doesn't rely on impressive effects or the "Wow!" factor. Yes, the scenery is of a high quality, but it is mainly cloths, beautifully designed and painted, but nothing high-tech. And it does have the modern moving lights but they are used sensibly and subtly. There's no in-yer-face "let's dazzle the audience"—and no "let's try to deafen them" either, an increasingly common thing in a lot of music theatre as well as panto, just the right sound level to enhance the singers' voices.
There's a fine mixture of jokes, old ("Crystal Palace" anyone?) and new, some traditional sight-gags, often given a new twist, and the humour is continuous. Even the serious bits (usually, of course, the romantic moments—here kept to a minimum) have a humorous twist—even Dandini and the Prince get a lot of laughs. And what an inspiration to have them singing a song from Young Frankenstein—to each other! (Am I alone in thinking it's just a wee bit camp?)
And as for the Fairy Godmother! Played by Scarlett Moffatt (Gogglebox and I'm a Celebrity) from Bishop Auckland, her County Durham accent and her early dismissal of speaking in rhyme quickly endear her to the audience and we laugh along with her. She starts off as an ordinary fairy on the top of the Christmas tree and then she gets "the call" on her mobile—she's being promoted!
Right from the beginning, we have this slightly off-the-wall approach—nothing too much, nothing which changes the story in any way (change the story of a show like Cinderella at your peril!), but a slightly sideways look, which gives the well-known (and well-loved) story a freshness and a new life.
But no amount of clever writing and directing—the director is Jimmy Johnson who also plays Baron Hardup and directed last year's Peter Pan—can make the show if the cast isn't up to it. This one certainly is. From the first one to appear (Moffatt), we have a series of real characters.
The first we meet is Cinders herself. She is played by Gemma Naylor of Nick Jr who also has a string of musical theatre credits, including a number of UK tours, in her CV so she is far from the traditional Principal Girl—a pretty girl with a good singing voice. This one's tougher than she looks; no breaking down in tears but rather a steely determination to tough out the bullying and humiliation to which she is subjected by her awful stepsisters, Rorina and Ruby Hardup, played by Miss Rory and Duncan Burt respectively.
I'm always wary of drag artistes playing Dame (I'm very much of the bloke in a frock persuasion) but Miss Rory (aka North Easterner Dan Cunningham) converted me. Her aplomb when things went wrong—and this is panto so they will—was marvellous and the outrage of both when a little girl in the audience shouted out that they were ugly sisters was a joy to behold!
I think of all the comic roles in panto, Buttons has to be the best. It's not just comedy, there's a lot of pathos there. He's the real clown, the Joey, the one with the tear on his cheek, and Tom Whalley, South Shields-born and Hebburn-raised, quite clearly relishes every moment. He has the audience—not just the kids but the adults too—on his side right from the off. He's a successful pantomime writer too and it is obvious that he really knows the character inside-out.
Traditionally, Prince Charming has been played as eye-candy: manly, good-looking, a good singer, buff—and often not terribly bright! Jon Moses is all these things but there's a sense that he's just laughing at himself, just a wee bit.
It has to be admitted that of all the parts in panto, that of Dandini is usually just a cipher—a gopher who just does what the boss says—although he does get to react strongly (panic!) at the Uglies' attempts at seduction when they believe him to be the Prince but this Dandini, Sam Ebenezer, is much more real—and he gets to sing and tell some jokes too.
There's the usual fine support from an ensemble of four girls, two boys and eight Babes. This almost goes without saying but must be said for they contribute so much to the success of a show and yet are often taken for granted.
Back to the good old days of Sunderland Empire panto! It felt good, it really did.
Reviewer: Peter Lathan