Cinderella
Alan McHugh with additional material by Ben Nickless and Les Dennis
Qdos Entertainment
Opera House, Manchester
–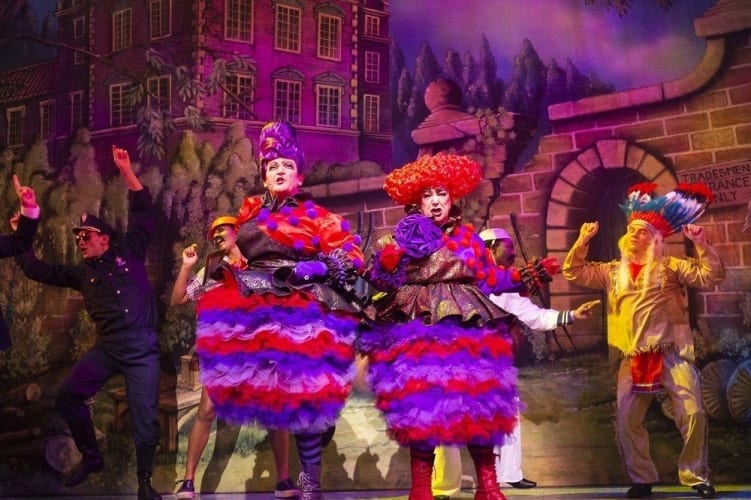 Qdos Entertainment burst upon the Manchester pantomime scene in 2017 with a spectacular if risqué production of Dick Whittington. This year they return taking a more restrained approach to Cinderella; even a song called "I'm a Fabulous Fairy" is sung with a straight face.
Director Guy Unsworth develops a show that is a mixture of spectacle and broad humour and is both respectful and irreverent. Gareth Gates as Prince Charming sings a strong version of the classic "Unchained Melody" but does not hesitate to send up another power ballad with a series of pratfalls. When a dance tribute to The Village People is staged, Donald Trump is added to the line-up. The show moves close to being musical comedy as much as pantomime with traditional elements such as singing along to the bouncing ball and inviting children on-stage notable by their absence.
Alan McHugh's script follows the traditional storyline but is shamelessly parochial. Most pantomimes make passing reference to the area in which they are performed but tonight the opening number specifically welcomes the audience to the Opera House.
The traditional aspects of pantomime are provided by comedian / impressionist Ben Nickless as Buttons. He wins over the young audience very early by squirting them with water and from that point on is able to command their vocal participation whenever required—not that they need much persuading. Nickless's turn as a one-man version of Take That is almost as funny as the real thing.
The days when television stars considered pantomime as beneath them and sleepwalked through their performances are now long gone. Connor McIntyre and Les Dennis cheerfully sacrifice their dignity to give fully committed performances as the Ugly Sisters. At one point, McIntyre gets so carried away he loses his wig to the delight of the young audience. Typical of a show where expense is not spared, the Ugly Sisters change into one of Mike Coltman's garish costumes just to set up a single one-line joke.
While the 2017 production was spectacular, the illusions did not always progress the story. This time around, TheTwins FX link their jaw-dropped special effects more closely to the storyline. The approach is like a magician telling jokes to mislead the audience while setting up his subtle tricks. Buttons makes his entrance through a series of individual boxes that have been carefully stacked in a haphazard fashion. In a beautifully understated stunt, Cinderella's ragged red dress is transformed into a glistening white ballgown when Shannon Flynn makes a single twirl.
Subtlety is all well and good, but TheTwins FX are masters of the spectacular and close the first act with a stunning illusion of Cinderella's crystal coach, pulled by very realistic horses, taking flight over the heads of the audience. It ensures conversation during the interval is dominated by how the heck they managed to pull that one off.
Cinderella is sure to delight young audiences with cheeky broad humour and leave their parents impressed with the scale and spectacle of the illusions ensuring The Opera House has a clear winner this festive season.
Reviewer: David Cunningham