Cinderella on Ice
The Imperial Ice Stars
New Victoria Theatre, Woking, and touring
(2009)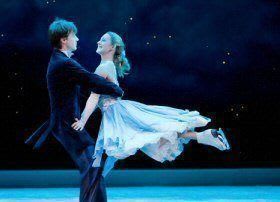 I have watched the television show Dancing on Ice and marvelled at the amazing technical ability and quality of performance some of the participants have managed to achieve, but these people are as children learning to walk compared to the expertise and ability of the Imperial Ice Stars. They glide, they swoop, they spin, they fly – but this is not simply skating, although simple is not a word to apply to this level of performance. They present very beautifully a true theatrical experience and, without words, tell the story of Cinderella lovingly, emotionally, and with depth to the characters.
I may have been to too many pantomimes, but I was rather expecting a similar experience only on ice, so it was a surprise as the curtain rose to see something vaguely resembling an ice palace with figures gathered around a person reclining on a bed ..had we come to The Sleeping Beauty by mistake? Of course this is the true beginning – when Cinderella's mother dies, and she is carried to bed by her loving father to cry herself to sleep.
Ten years later (time figures largely in this story, as of course it would) and the scene has changed to a bustling village square. All is colour, light and happiness as the skaters twirl and skim busily going about their business. There is a balloon seller, who hands his balloons to a young girl, and they take her off - Mary Poppins style - into the sky, while a colourful gypsy fortune teller (Olga Gmyzena) appears to have mystical powers, and it is in this setting that Cinders (Olga Sharutenko) and the Mayor's son (a romantically wistful Andrei Penkine) first notice each other.
Cinderella's watchmaker father has married again, but this is not to the harridan we might have expected. This lady is slim, svelte and exotic – a true fashion icon in an embellished ruby trouser suit and sporting a long elegant cigarette holder. The daughters too are far from being 'the Ugly Sisters', but they are spoilt and spiteful towards their half-sister, making this a much more credible and realistic interpretation of the story than the one we are used to, and there is jealousy and annoyance when Cinders is given the leading role of Odette in Swan Lake.
The most magical and wondrous scene is just before the interval with the construction of the coach to take Cinders to the masked ball, although every scene is magical, enthralling, and brings tears to the eyes with the sheer beauty and emotion of it all.
The technical expertise, strength and agility is beyond question, one long scene compelling the girls to skate solely on one foot while Cinderella's lost 'shoe' is tried on one after another.
They manage to fit in a little comedy too and there is also a touch of Riverdance on Ice as they enjoy a type of Irish Jig – Russian style!
Of course true love wins through in the end, but the audience didn't want the show to end and the skaters treated us to a spectacular finale with all performing seemingly impossible feats of skating expertise and acrobatics.
The many young children in the audience were kept totally spellbound, as were their parents and grandparents – a truly wondrous, magical experience!
Touring to Southampton, Manchester, Liverpool, Truro, Stoke-on-Trent, Northampton, Landudno, Tunbridge Wells, Bradford, Bromley, Bournemouth, Cheltenham, Glasgow and Nottingham.
Andrew Edwards reviewed this production in Manchester
Reviewer: Sheila Connor