Cinderella
Mark Clements, original music by Paul Herbert
Salisbury Playhouse
(2009)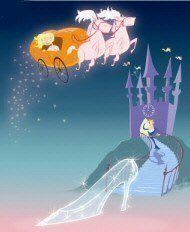 Pantomimes, like policemen, get younger every year.
Take this season's production at Salisbury Playhouse of one of the finest, Cinderella, itself a show which has been delighting English theatregoers for nigh on 200 years!
This new version by Mark Clements, directed by Caroline Leslie, is about the liveliest I have seen. A tad short on the young dancers, traditionally encountered on the village square in the opening scene, though there are here two teams of six alternating nightly to allow some attention to lessons between now and the New Year.
Sadly, we do not encounter in this account a traditional principal boy. In my day the Prince Charming to die for was Patricia Burke, lost to us only a couple of years back. No one had an unamplified voice like hers - and no-one in my view even at that early age, had a better pair of legs.
At the Playhouse today, Prince Charming is in the personable masculine form of Sam Marks with Kate Marlais in the title role. The duets of this handsome pair are highly pleasing, if a little missing in vocal projection.
This, for me, is part of the disappointment of the whole production. Synthesised accompaniment is generally at a level which defeats almost every attempt to make out the words - only when dialogue is spoken does this become seriously feasible.
But never mind the pickings of a panto veteran. The kids plainly love it. If the words can't be heard, what do they care? The show is colourful, the tunes are catchy if simplistic and there is every opportunity to shout and boo!
Most popular with my junior experts, are, you've guessed it, ugly sisters Abby and Fabby, eccentrically played by Alexander Giles and Anthony Houghton.
There is also enthusiastic applause for Jack Wharrier's lively Buttons who, somewhere along the line does seem to forget his chocolates - or is that just the script?
Alison Pargeter is a truly old fashioned Fairy Godmother, with some of the best songs, and there are some good old fashioned histrionics from Tom Anderson as Baron Hardup.
My junior friends were not too sure about the "luvvy-duvvy" scenes - such are today's juveniles but I would like to see them in ten years time!
But whatever happened to the fireplace in an otherwise imaginative design by Karen McKeown?
I have seen more spectacular transformation scenes but perhaps this one is designed to blend, like the fireplace, with an unspectacular but entirely wholesome Christmas show.
"Cinderella" runs at The Playhouse, with matinees, until 9th January
Reviewer: Kevin Catchpole