Circle Mirror Transformation
Annie Baker
Royal Court at the Rose Lipman Building, Haggerston
–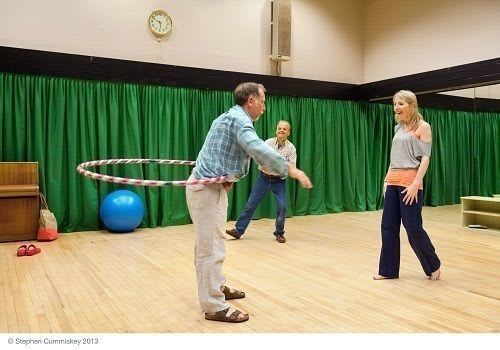 For a play that is ostensibly about nothing, Circle Mirror Transformation packs a mighty emotional punch.
This award-winning Off-Broadway piece by a writer best known in this country for The Aliens is set in a hall in Vermont where five assorted individuals come together to escape their mundane lives and enjoy a weekly acting class.
On the surface, the group led by Imelda Staunton's stereotypically positive Marty do exciting things like count to ten, walk around shaking hands while identifying themselves, tell stories and indulge in a little play acting.
However, as the youngest member 16-year-old Lauren, played by Shannon Tarbet, quickly realises, there is no real acting going on.
Instead, the quintet run through exercises designed to enable self-revelation and develop technique, which gradually affect them all, as well as a packed audience at a community centre in Haggerston, not too far from Hackney.
The relationships subtly change as these individuals get to know each other through dozens of short scenes, some of only a few seconds.
Carpenter Shultz and actress Theresa, respectively Toby Jones taking a break from big screen appearances in Infamous and Tinker, Tailor, Soldier, Spy and the superb Fenella Woolgar, are both trying to recover from broken relationships. Almost inevitably, they form one of their own, which is examined in intricate and at times painful detail.
Similarly, the loving marriage between Marty and Danny Webb as James comes under the microscope and undergoes a remarkable transformation as a result of a single written note, in yet another inventive game that changes the course of the drama.
Quiet young Lauren looks on in bemusement for much of the time, as the adults behave with far less maturity than she possesses. For her, recognition comes in seeing these older acting colleagues making the same mistakes that she is used to seeing from her parents.
Circle Mirror Transformation uses theatrical training and rehearsal as a metaphor for real life but also a medium to convey it. Because Annie Baker is such an accomplished and observant playwright, following the arcs of these characters lives across only a few weeks becomes deeply moving as well as periodically amusing, especially in a hilarious hula-hooping scene.
With a super-starry cast, each giving their all under the immaculate direction of James Macdonald, it becomes a must-see event for anyone who is in love with the stage, the process of acting or just good drama.
Reviewer: Philip Fisher