Circle Mirror Transformation
Annie Baker
Playwrights Horizons, New York
(2009)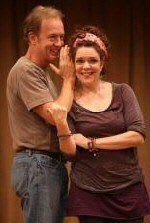 Circle Mirror Transformation takes metatheatricality to a new level. The action is set in a Vermont rehearsal studio where five diverse people meet for six consecutive weeks to learn how to act.
On one level, the play is a witty exposé of what goes on behind the scenes when wannabe actors try to hone their skills. As the youngest points out, there is very little of plays involved in their play acting, merely a series of exercises some of which seem farcical, while others at least help to develop an appreciation of the way that we all behave.
However, the drama becomes more challenging when the role playing takes on the ground more usually associated with psychotherapy.
Thus each member of the quintet undergoes an extraordinary mental journey, for the most part traumatic, in a six week period that will change each of their lives forever.
One long-term relationship ends and a different one blossoms and dies in a fortnight, leaving four people hurt and baffled.
The best of the acting comes from Tracee Chimo playing the odd (in every sense) one out, introverted 16-year-old Lauren. Here is a girl with a troubled home life and a desire to escape into theatre. However, she is hijacked into observation of the strange ways of adults, as some of the roleplay gets close to murderous. The actress perfectly catches the sulkiness of a shy teen but also shows her growing up, thanks to the therapeutic effects of the lessons in life dressed up as lessons in acting.
While Miss Chimo gets the best part and makes the most of it, her colleagues are all extremely good too.
Heidi Shreck's Theresa is an actress on the bounce from a broken relationship, mirroring Reed Birney's stressed-out Schultz, whose marriage has foundered leaving him fragile.
Deirdre O'Connell plays the group's well grounded ex-hippy moderator Marty and Peter Friedman the older man James, whose quiet demeanour hides deep wells of emotion.
Director Sam Gold marshals his troops well and in addition, handles the transformations between numerous short scenes deftly. He must have had a great deal of fun too, in asking actors to replicate the kinds of games that some directors believe are necessary to get the best out of performers and others will think represent the height of silliness.
Reviewer: Philip Fisher