Le Cirque Invisible
Queen Elizabeth Hall
Southbank Centre
(2011)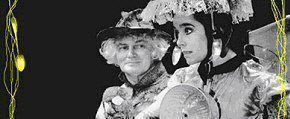 It is impossible to believe that Jean-Baptiste Thiérrée and Victoria Chaplin have been performing together for four decades, first in Le Cirque Bonjour, then Le Cirque Imaginaire and now Le Cirque Invisible. I have followed them for two decades only, and neither of us seems to have aged at all.
Our children have grown up, theirs, James and Aurélia Thiérrée, have gone on to independent performing careers, continuing the family tradition. I remember mine laughing at theirs giving legs to Jean-Baptiste's collection of picturesque suitcases from which he pulls all sorts of curiosities - and fruit and vegetables. A fruit case? He sure is, a charming fruit and nut case.
Oh, to have parents like these. One wouldn't need to run away to the circus. Here there be clowns, jesters, acrobats, animals (well, singing geese, rabbits, doves, and dog poo), and magicians. And only two ageless people intending to carry on forever…
Generations of lovers of the sublime and the surreal, the whimsical and the exquisitely droll were in the audience, adults outnumbering the children. Adults who had not given up on their inner child that the white mop-haired Jean-Baptiste so happily represents - with a permanent smile on his lips and delight in his amazed eyes at the endless visual jokes and tricks he can play. Blink and you miss some of them. Stare and you can't believe your eyes.
From his first brief trick he has the audience applauding till the very end when we don't actually know whether to leave or whether there will be another and another encore. The final scene - an empty stage filled with one live rabbit and lots of Duracell bunnies - says it all. Are we hopping mad not to be able to tell the real from the unreal? Or do we prefer it this way? They do.
What warm bonhomie, and what fun to lose oneself in Jean-Baptiste's world... his André Breton / René Magritte perspective, his rosy Benny Hill cheekiness, his Tommy Cooper pleasure in magic tricks that go wrong and then somehow go right. Illusion, and the joy of seeing the world as it really is... Soap bubbles that ring like a bell when smashed by a hammer…
Knees that sing the Au fond du temple saint duet from Bizet's The Pearl Fishers (genou does feature in the libretto). The cut-out chorus that accompanies Edith Piaf - did Ennio Marchetto get his ideas from Jean-Baptiste - my companion thought they all looked like Brian Sewell - now there's a thought. Coordinated clothes and baggage - in tapestry, in zebra stripes, down to the smallest accessory - that peel off to reveal more of the same.
Victoria balances (balance is the word - hers is remarkable) his childlike wonder with her own wondrous creations in virtuosic metamorphoses and acrobatic skills. Trick cycling takes on a new dimension, and tight rope walking goes swimmingly well. Tumbling, and a glass tumbler outfit that turns her in to a walking orchestra, balletic and contortionist skills - genes will out - the Chaplin pedigree is unavoidable. And for one brief moment Loïe Fuller is reincarnated.
Creatures from umbrellas, garden pots, tables, chairs, wheels, take on curious Romantic Gothic life in silent film mode. Giant fish swallow her whole, Chinese dragons, elegant horses, and a wise monster-size face from simple dressing up clothes. Not as simple as it looks. Years of refinement have gone into this mesmerizing show that never fails to give immense happiness to those in the know and those not.
If you've never seen it, Le Cirque Invisible is a must - an enchanting world, a dreamscape full of heart-easing pranks. Fishy tales, beautiful visions, impish humour and imagination, and the miracle of circling the square - or do I mean squaring the circle? You have to see it. Initiate the uninitiated.
Till 21st August 2011
Reviewer: Vera Liber