Citizen Puppet
Mark Down
Blind Summit
Pleasance Courtyard
–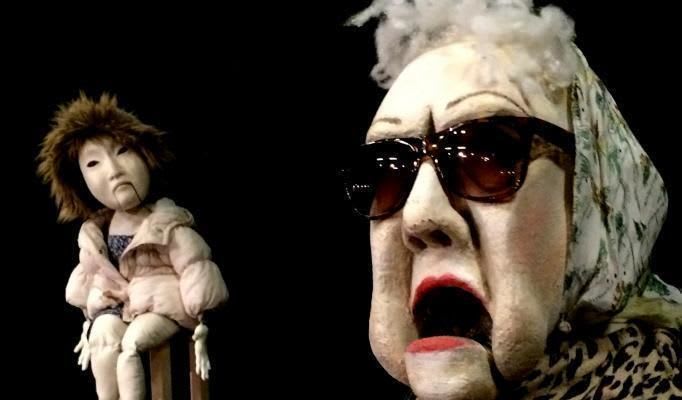 Blind Summit, the celebrated creators of the 2014 success The Table, is back again this year with its spin on the Jack and the Beanstalk fable.
The Table introduced the audiences to the fine art of puppets and puppetry. Citizen Puppet is Blind Summit's next step, a natural development.
Jack's giant has fallen from the sky and Citizen Puppet gives us an inside look into the locals' reaction to this unusual occurrence. Like any group of human beings, it's the normal and also not so normal reaction.
If this script had been delivered first hand from the actors themselves, it would have been an interesting evening. But delivered by this collection of very uncanny puppets, it makes for a stellar event.
The puppets made by Nick Barnes, Natasha Burns, Fiona Clift, Mar Down, Helen Foan and Rachel Salenius are amazing; worth the look. It is first the eyes which have an almost scary realism. Something about the way they reflect the light. Their facial features are startlingly realistic. Each one a unique representation of someone we recognize. We almost forget that they are puppets.
With last years Table we know how well-trained Blind Summit performers are. But, combined with the subtly humanistic rendering by the human actors Laura Caldow, Fiorna Clift, Samuel Dutton, Simon Scardifield and Jake Waring who are dressed head to toe in black, these come close to being perfect performances. The individuals that the company has created are whimsical and recognizable. We are in immediately.
Additional nod to those responsible for the lighting. It works very well for this production when they have only the venue lighting plot to work with. (Standing ovation!)
This might be a little complex for the really young; Blind Summit advises over 14. But I think today's youth are more sophisticated than given credit. Citizen Puppet is a great introduction to grown-up theatre.
Reviewer: Catherine Lamm