The Table

Blind Summit Theatre
Soho Theatre
–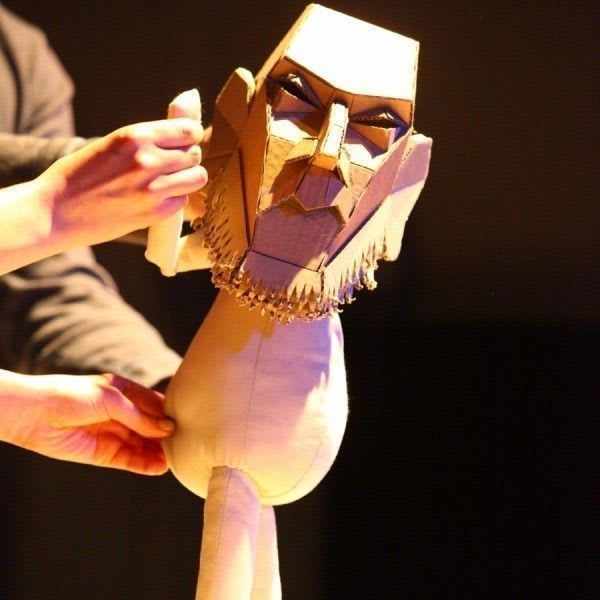 In the last few years, puppetry, especially of the Bunraku variety, has become an extremely popular stage form. Its establishment in the top flight has been led by South African company Handspring, whose contributions to War Horse have led to continued success at the National Theatre, the West End and now on Broadway.
Their most significant rivals have been Blind Summit Theatre, whose complicity with Complicite has given a big fillip to productions such as Shun-kin and the opera A Dog's Heart.
This latest work, which they both devise and perform, became a major hit at last year's Edinburgh Fringe and has now become one of the headliners in the 2012 London International Mime Festival.
The first hour consists of the title piece. This is practically a lesson in Bunraku puppetry as three performers take through his strides a lone man under two feet tall. Their subject has a head lovingly carved in the Blue Peter spirit from a cardboard box and a bulbous, bandy-legged body made up from an old stuffed curtain.
Artistic director Mark Down, who gave up a career in medicine for puppetry, works the head and left hand, Sean Garrett has fun with the right hand and bottom, while puppet maker Nick Barnes really gets the short straw manipulating the feet.
Throughout, the character's life story is narrated by Down, who makes no attempt to ventriloquise as the puppet-man takes us through a sad existence in a voice that gratingly veers between Tommy Cooper and Norman Wisdom.
An issue identified by the puppet (through Down) is that we constantly see three large men looming over and leading him. This makes suspension of disbelief that much harder than in other Blind Summit shows. Against that, this knowledge does make viewers appreciate the effort involved (as does the perspiration that pours off at last one performer, even in January).
The trio work their socks off to give the little chap life and humanity, at their best persuading you that you really are watching a simulacrum of reality as he walks, dances, skates, climbs and skids across his personal stage, née table, at times. This can also be very funny, although the script, which illuminates the art as much as the story, never quite matches the artistry.
This means that although there is no denying the virtuosity of the life-like puppetry, exemplified by the articulation of the limbs, nor some of the humour, by the end of 60 minutes the degree of repetition can begin to wear.
The very short second sketch sees numerous disembodied head, hands and feet bouncing around in three golden picture frames. They appear, disappear, dance and fly about creating considerable amusement.
The final piece may be little more than a cross between a strip cartoon and a silent movie but it is brilliantly conceived.
A simple story of love and death is told through individual images crudely drawn on white sheets of A4 paper. Between simple pictures and narration plus drawn bangs and crashes straight out of Batman or Spider-man, the tale becomes hilarious and brings the evening to a joyous end.
Some might ask what this has to do with mime, but Blind Summit certainly offers unorthodox and popular entertainment.
Reviewer: Philip Fisher