City of the Blind
David Leddy
Fire Exit
Traverse Theatre (online streaming)
From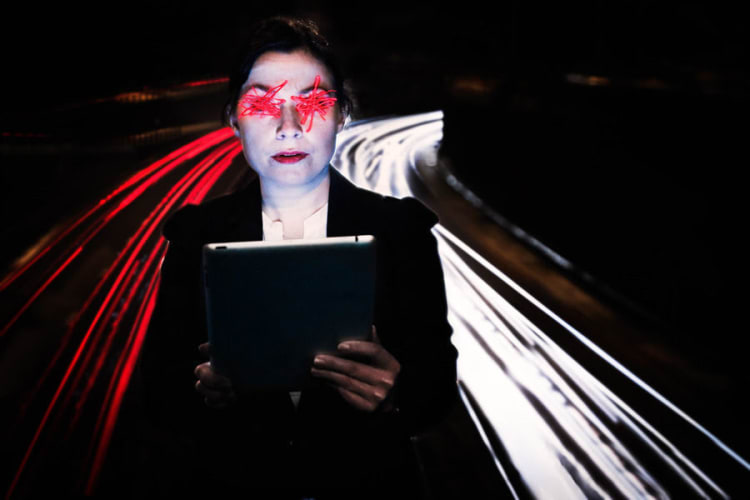 This is the opportunity for those that cannot get to Edinburgh to share in the fun.
In association with his live piece Horizontal Collaboration, David Leddy has created an online multimedia thriller that will delight lovers of John Le Carré and his ilk and at the same time makes some pithy statements about our surveillance society.
Leddy's USP comes from mixing up every medium that could conceivably be utilised to allow viewers to share the experiences of Cassandra Al-Khatib, played by Claire Knight.
We follow the UN employee at work and play, including interactions with a drugged-up, drama queen sister, awkward colleagues and even the kind of man that nobody wants to meet on a lonely staircase.
The writer/director manages to use films, audio clips, photos, web cams, videoconferencing, instant messaging and texts and that is just a selection from the first episode. Later on there are even those archaic forms, letters and faxes.
Building up through six episodes ranging between 25 and 45 minutes, City of the Blind is centred on the United Nations in New York City.
The rookie forensic accountant, with a name that echoes that of the cursed Greek seer, gets help and hindrance from colleagues in our efforts to prove that UN soldiers had been raping civilians in DRC before getting inside help to cover up their sins.
In a separate stream, it is also suggested that multinational banks conspired to help fund drug cartels in their nefarious dealings.
From a large cast, the figure that stands out in addition to Claire Knight is Alisa Anderson playing Beate Grossman, City of the Blind's super-geeky equivalent of Mr Spock.
For anyone who might assume that such plotting is far-fetched, the writer/director provides bibliographical support from reputable sources including WikiLeaks to prove his production's authenticity.
The final episode tying up loose ends can seem rather contrived and is almost exclusively delivered via audio feeds, possibly because budgetary or time constraints impinged, but the series grips throughout, specialising in cliffhanging ends to episodes.
The plotting and performances are equally satisfying in a production that is likely to draw many flattering imitators over the coming months and years.
The real attraction of this Edinburgh add-on lies in the high production values and delivery via online streaming to your computer, tablet or mobile phone for a very reasonable £8.99.
You can watch it in odd gaps during the day whether at work, home or on the move starting and stopping at will or possibly pig out on a wet Sunday.
You can see the show for yourself by logging in at http://www.davidleddy.com/shows/city-of-the-blind.
Reviewer: Philip Fisher