Clarion
Mark Jagasia
Arcola Theatre
–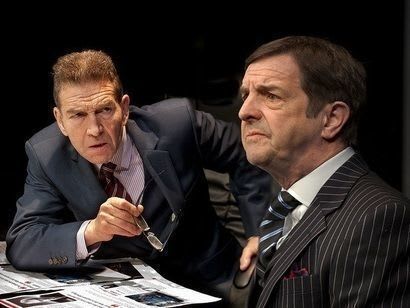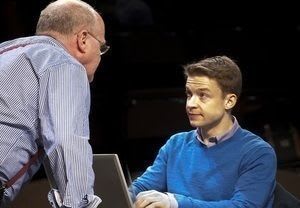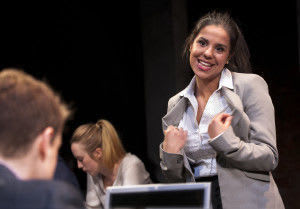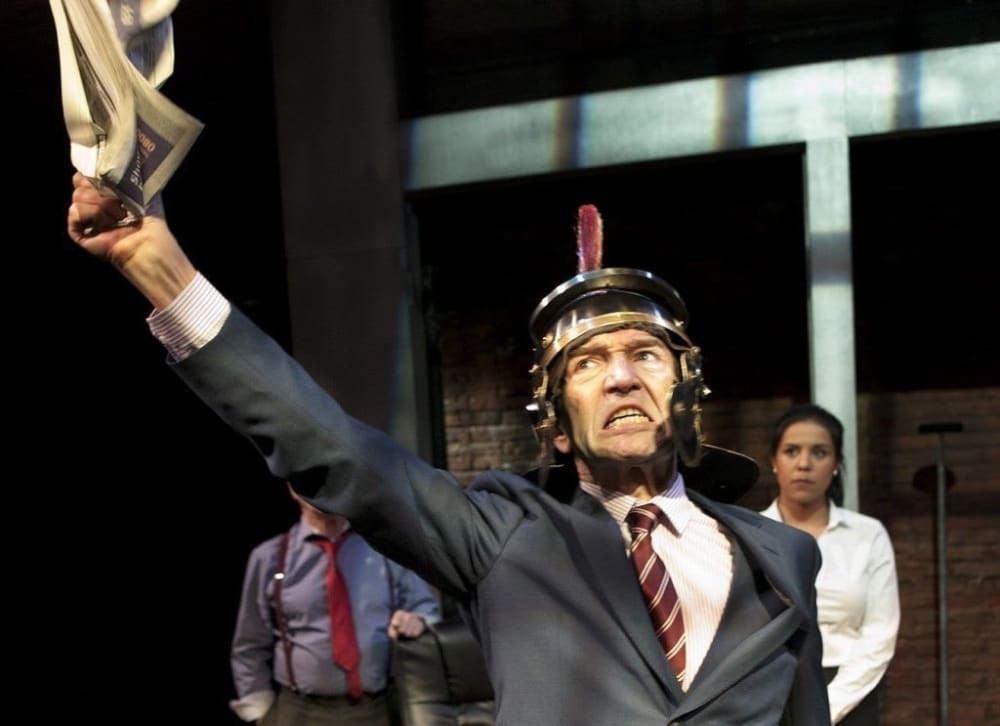 Six months after its successful première at the Arcola, Mehmet Ergen's bold production of debut dramatist Jagasia's play is back for a second run.
It boasts the same cast with Greg Hicks as a despotic right wing editor Norris Honeyspoon and Clare Higgins as the revered veteran foreign correspondent whom he offered a berth when she hit hard times.
Their paper, The Clarion, has a Roman centurion's helmet on its masthead and Honeyspoon eccentrically sports one to mark his editorial authority, along with an ancient rubber-bulbed motor-horn with which he silences staff.
The sound of Vaughan Williams's pastoral music and the way it embodies a feeling of Englishness sets the scene and emphasises the ways in which changes in our society can threaten old values. Even for those liberal in attitude and supportive of change, there are things at risk but Honeyspoon is a paranoid campaigning extremist. For him, Elvis Presley "opened the floodgates" to "sixty years of culturally sanctioned underage rutting and the fucking polytechnics".
This isn't today's university degree journalism: he and his henchmen are old-style Fleet Street veterans who came up through the provincial press. Honeyspoon isn't without standards but they are his own journalistic ones. He thinks he knows what his readers want to read and he gives it them: a whole year of daily stories attacking immigrants.
Jagasia has created a man who really cares about certain things, a man saddened by modern media's challenge to print journalism. You even feel sorry for him as his crass boss hands out humiliation: a glamour model to be his new lead columnist, a bottle of Prosecco his reward for increased circulation.
He's a monster but Greg Hicks manages to show the underlying panic and desperation as he delivers foul-mouthed tirades against liberal intellectuals, homosexuals and youth "obsessed with iPads, golden showers and cock-rings." It is a stunningly funny performance that makes him almost too awful to laugh at but just on the side of reality.
Clare Higgins is also stunning as Verity, a sardonic journo, who lost a foot to a landmine (or was it a drunken fall as Honeyspoon accuses) and has a husband in a care home. She too mourns the loss of the old Fleet Street and "Farringdon Road, The Cheshire Cheese, the Stab in the Back, El Vinos," but however compromised to keep her head above water she still has some decency.
Joshua Moon is a reporter Verity has taken under her wing. But he's the one who has to come up with the immigrant stories. Ryan Wichert makes him wholesome, He's a gentle fellow who only stays there "because he is writing a novel" but is disturbed by what he is doing now, a potential whistle-blower.
In contrast, there are old hand Albert Duffy (Jim Bywater) who just wants a quite life and Pritti, a pushy young woman on work experience, so uninformed that when she's told Verity reported from Port Stanley, Soweto, Kandahar, Berlin, Bucharest, Sarajevo, Kinshasa, Liberia and Rwanda she thinks she was a travel writer.
The voice of the paper's proprietor is Clive, a bigoted religious freak; Peter Bourke gives him a strain of malignity, and an Australian accent, in a caricature that's outrageously funny but yet feels frighteningly close to the real thing.
The whole play and Mehmet Ergen's production maintain a precarious balance between being hysterically OTT and deadly serious about the state of journalism, perverted patriotism and moral responsibility. It is a savage satire all too close to reality that is not only funny but has a real plot to it too. Really worth seeing!
Reviewer: Howard Loxton